Pro Gainer Vs. Serious Mass: Which One Is Right For You?
Pro gainer Vs Serious mass is an important comparison for the muscle building supplement industry which is one of the fastest-growing markets in the world. In the year 2012, this industry brought in a revenue of $32. Less than one decade after this report, the industry is expected to reach an annual revenue in the United States that will likely exceed $60 billion by the end of 2021.
With a significant number of supplements to choose from, a skinny guy like you may not even know where to start their search. Choose the wrong mass gainer supplement, and you end up with wasted money – and a product that is unable to help you reach your goals.
Do some research and choose a good supplement, on the other hand, and you get a product that boosts muscle growth, help you maintain existing lean mass, and you get to experience better performance in the gym.
Optimum Nutrition has become a particularly popular brand in the last few years, but this company still has a few different options that you need to filter through to find a supplement that will work for you.
We compare to particularly popular options from the Optimum Nutrition brand, Pro Gainer vs. Serious Mass, to help you realize which one will give you the best results.
Why Optimum Nutrition Stands Out In The Muscle Building Industry?
We'll start our comparison of Pro Gainer vs. Serious Mass by first looking at the brand behind the two supplements – Optimum Nutrition.
As we have mentioned previously, the brand has become quite popular in recent years. One of the main reasons why Optimum Nutrition has become a trusted brand is due to the fact that the company has been providing top-quality supplements for over 30 years. The company was initially founded in 1986.
Optimum Nutrition was initially founded in the United States, and during the earlier years of the brand's existence, the company only sold its products to customers who resided in the country. Over the last three decades, however, Optimum Nutrition has expanded globally.
The company's products are now sold in more than 10,000 specialty supplement stores, as well as fitness centers and gyms around the world.
Additionally, there are also several drug stores, pharmacies, and even local grocery stores that also stock supplements produced by Optimum Nutrition. Furthermore, supplements produced by this brand can now be purchased in more than 70 countries around the world.
It is not only the fact that the company has been manufacturing supplements for over 30 years that really makes them stand out from the crowd.
When it comes to supplements, the Optimum Nutrition brand puts in the effort needed to produce the highest quality products that customers can find – but, at the same time, the brand ensures that its products are affordable, making it easier for the average person who might be on a tight budget to gain access to muscle building supplements.
Pro Gainer Vs. Serious Mass: A Full Comparison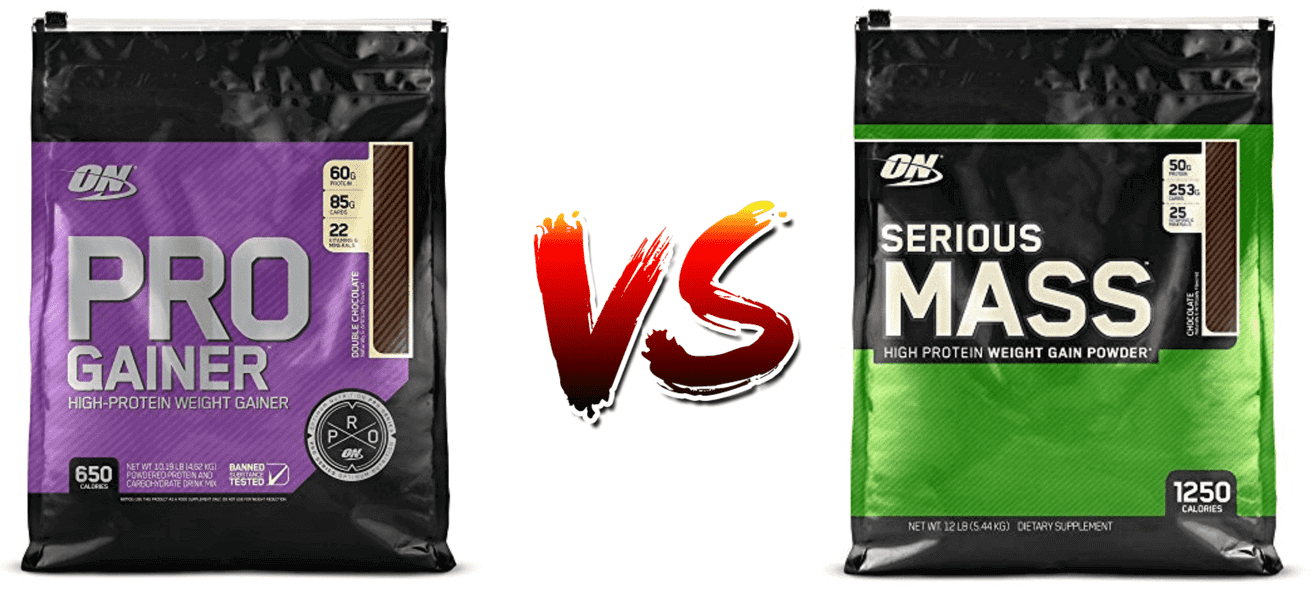 Optimum Nutrition has a lot of different supplements that you can choose from.
When it comes to a skinny guy who wants to gain weight, however, not all of the brand's products might be an ideal solution.
For bulking up quickly, while also catering to the nutritional requirements of your body, the two most preferred supplements would include Pro Gainer and the Serious Mass supplement.
Both of these products have been designed to help you bulk up quickly, without exposing your body to harmful ingredients that could end up causing side-effects. The similarities in the comparison between Pro Gainer vs. Serious Mass makes it hard to choose between these two products.
While there are many similar features that you will find among the two supplements from Optimum Nutrition we are comparing, it is really the differences between the products that will allow you to determine which one will be the best option for you.
We'll consider the micronutrient and amino acid profiles of each product, consider the added nutrients that you gain access to, and ultimately see which one of the supplements would give you the maximum value for your money.
Macronutrient Profile
The macronutrient profile that comes with the use of a mass gainer supplement is one of the very first factors that you will need to take into consideration.
The primary macronutrient that needs to be taken into consideration when choosing the right supplement for your weight gain strategy would be protein – particularly when you are trying to gain weight in the form of muscle mass.
In addition to protein, you should not overlook the importance of carbohydrates in a weight gain diet. Carbs are essentially turned into sugars in your body, which then act as a fuel for energy that cells can use to function – and your muscle tissue can take advantage of during weight training sessions.
Let's consider the macronutrients that each of the supplements we are comparing will offer you. This will give you a better idea of how they differ in terms of protein, carbohydrates, and other compounds that may be useful during your weight gain and muscle building routine.
Optimum Nutrition Pro Gainer
Let's start with the Optimum Nutrition Pro Gainer supplement. When you decide to take advantage of this mass gainer powder-based supplement, you get the following macronutrients with each serving that you take:
A total of 660 calories
60 grams of protein
85 grams of carbohydrates
8 grams of fat content, of which 4 grams are in the form of saturated fats
The supplement contains a protein blend. This is a formula that consists of different protein types. The specific proteins that are included in the Optimum Nutrition Pro Gainer consist of the following:
Whey protein isolate
Whey protein concentrate
Egg white protein
Whey peptides
Calcium Caseinate
Wheat glutamine peptides
The use of different protein sources gives you a more balanced whey of introducing extra protein to your diet with the help of a mass gainer supplement.
Buy this Supplement
---
OPTIMUM NUTRITION Serious Mass
The Optimum Nutrition Serious Mass supplement is great if you are struggling to reach your daily caloric intake goal, as the product is superior to the Pro Gainer supplement – at least in terms of calories and carbohydrates.
In every serving of the Optimum Nutrition Serious Mass supplement, you get the following macronutrients and compounds:
Up to 1,250 calories in a single serving
50 grams of protein content per serving
More than 250 grams of carbs
4.5 grams of fat content, with 1.5 grams of saturated fat content
The fat content of the Optimum Nutrition Serious Mass supplement is much lower than what you get with the Pro Gainer. This is beneficial if you are trying to limit your exposure to saturated fats and rather focus on including healthy fat content in your meals.
While the protein content of the Serious Mass supplement is lower compared to the Pro Gainer product, you do get a higher dose of calories and carbohydrates. This is exceptionally useful if you are struggling to bulk up due to a lack of carbs in your regular diet.
Serious Mass also takes advantage of a protein blend to give you a balanced range of protein sources. The protein sources that are used in this particular supplement include:
Whey protein concentrate
Egg albumen
Sweet dairy whey
Calcium caseinate
Do take note that this particular supplement does not utilize whey protein isolate in its formula. If you prefer a product that uses an isolate for a more potent dose of protein, then the Pro Gainer supplement might be a more appropriate option for you to look at.
Buy this Supplement
---
Amino Acids
Amino acids are the building blocks for all proteins that are found in your body – including the proteins that are critical to helping you achieve faster growth in muscle mass, experience a more rapid recovery of muscle tissue after exercising and to help reduce fatigue during your training sessions.
There are different amino acids that are helpful, with a primary focus often placed on BCAAs, also known as Branched-Chain Amino Acids. These are the three main amino acids that have been shown to play a critical role in allowing muscles to develop faster and more effectively.
With these two supplements, you will find that BCAAs are not part of the primary ingredients that are utilized in the ingredients added to the powders. This may be a problem for those who are looking to incorporate BCAAs into their daily diet. At the same time, you should take note that the protein blend that is used in both of these supplements might still contribute to your daily intake of Branched-Chain Amino Acids.
The Optimum Nutrition Pro Gainer supplement does not provide a complete list of the amino acids that you gain when you decide to consume a shake with this powder. The supplement does state that it includes an AminoGen Proteas complex.
This means the manufacturer did decide to include certain amino acids in the blended protein powder supplement – but the company fails to provide an accurate view on which amino acids you get with the product or the dose of the amino acids included in the powder.
With the Optimum Nutrition Serious Mass supplement, however, the nutrition facts and ingredient labels are somewhat more transparent. The primary amino acid utilized in the Serious Mass supplement seems to be L-Glutamine.
The product also contains additional Glutamine peptides for added benefits. Additionally, the supplement lists Molybdenum Amino Acid Chelate as one of its active ingredients, which further adds to the amino acid profile that you obtain with the use of the Serious Mass protein powder.
Sugars And Synthetic Chemicals
One of the major concerns that are often raised among bodybuilders and other people trying to gain mass is the fact that mass gainer supplements tend to contain a lot of added sugars.
In some cases, these products would also contain fillers – which really reduces the efficacy of the supplement while also exposing your body to chemicals that may not be considered healthy for your body.
With this in mind, we should also consider the sugars and any artificial or synthetic chemicals added to these supplements when comparing Pro Gainer vs. Serious Mass.
The Optimum Nutrition Serious Mass supplement is a concern when comparing the sugar content of these two products. There is a 20-gram dose of sugar contained in this particular protein powder.
It should be noted, however, that this is primarily due to the fact that the carbohydrate content in each serving is significantly higher compared to the Pro Gainer supplement.
When we switch our attention to the Optimum Nutrition Pro Gainer supplement, the sugar content of this product calculates to seven grams per serving.
This is a lower sugar content than Serious Mass, but the carbohydrate content of the Pro Gainer supplement is only 85 grams. We should also note here that two grams of sugar per serving come from added sugar content.
The differences in sugar content between the two really make the process of choosing one complex. If you want to load up on more carbohydrates, then the Mass Gainer supplement is the one you want to take a look at.
Sure, the sugar content is higher in this one, but do consider the fact that there are no listed added sugars – which means the sugars produced from the carbohydrates come from natural sources.
On the other hand, if you are trying to limit your carbohydrates and rather focus on a diet that prioritizes another macronutrient, such as fats, then the Pro Gainer might be a more appropriate option for you to consider. This one contains only 85 grams in each serving and a lower amount of sugar.
There are, however, added artificial sugars in the Pro Gainer supplement.
---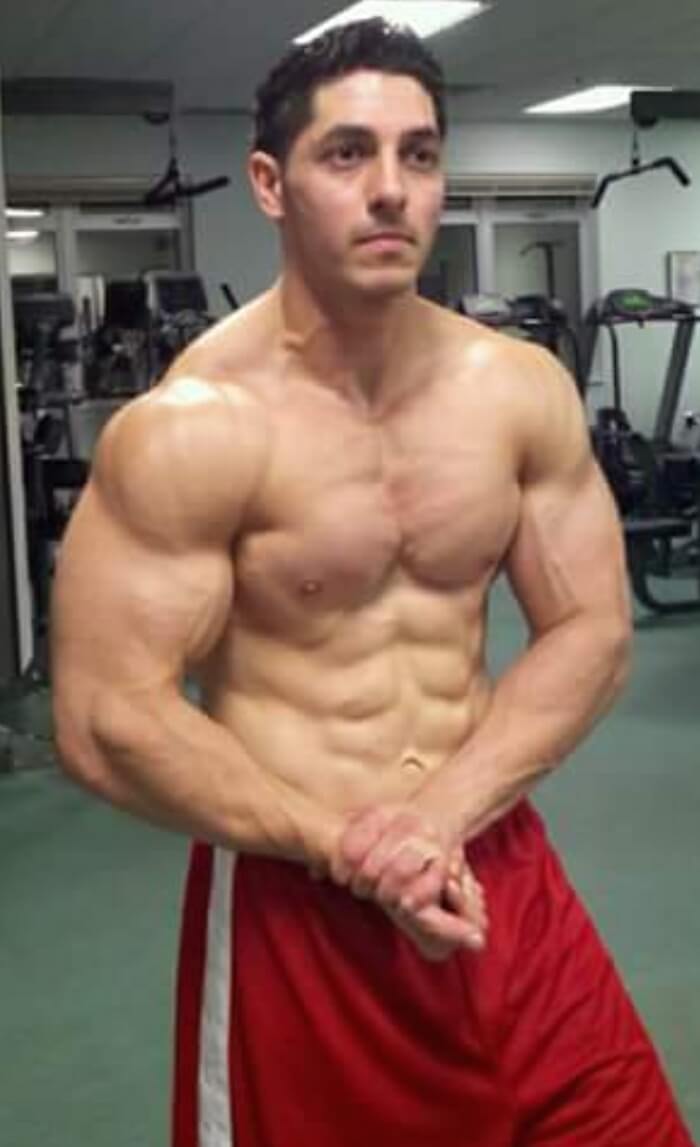 This is Alby, a father to 5 kids who struggled to gain a single pound of muscle all his life until he changed a few simple but weird habits and now he is an absolute beast in the gym. What did he change? It's not what you think…
Find out how
Added Nutritional Content
Your body, including muscle tissue, needs a constant supply of essential nutrients to survive – and to function properly. When your diet lacks appropriate nutrients, you may suffer from fatigue. You may also find that a lack of essential nutrients causes a delay in muscle recovery after your exercise, and you may also feel weaker while you work out.
It is generally advised to consume your nutrients through whole foods.
This means planning out your daily meals so that you get all of the minerals and vitamins your body needs.
Unfortunately, it can be quite a challenge to set up your meals to give you every single vitamin and mineral; you need to remain healthy – especially when you are participating in intense workout sessions.
This is where mass gainer supplements and other products aimed at people who are trying to build muscle mass comes into play. Both of the supplements we are comparing in this post can give you access to certain nutrients that can help you reduce your risk of suffering from nutritional deficiencies.
The inclusion of these nutrients helps to keep your cells healthy and ensures your muscles have enough energy to perform well in the gym.
The use of the Optimum Nutrition Pro Gainer supplement gives you the following nutrients in each serving of the powder:
Vitamin D
Calcium
Iron
Potassium
Vitamin A
Vitamin E
Vitamin C
Riboflavin
Thiamin
Niacin
Iodine
Pantothenic Acid
Biotin
Vitamin B12
Folate
Selenium
Copper
Manganese
Chromium
Zinc
Magnesium
Phosphorus
Chloride
Molybdenum
Optimum Nutrition Serious Mass also contains a large number of added nutrients to help keep your body, including your muscles, healthy. The vitamins and minerals offered by this supplement include:
Vitamin A
Vitamin D
Vitamin C
Vitamin E
Riboflavin
Folic Acid
Vitamin B6
Vitamin B12
Biotin
Pantothenic Acid
Calcium
Thiamin
Niacin
Iodine
Zinc
Selenium
Copper
Sodium
Potassium
Molybdenum
Phosphorus
Iron
Manganese
Servings And Value
You need to consider the overall value you get when you buy a supplement, too – not just look at how many carbs, protein, and calories a serving of the product would give you.
This is why it is important to consider factors like the size of the container, how many servings you get from each bottle, and ultimately see which one would be the more valuable option to buy.
Optimum Nutrition Serious Mass comes in two different size options. These include a six-pound and a 12-pound bottle. A six-pound bottle costs $26.24, while a 12-pound bottle costs $46.70. Each serving of this supplement consists of 334 grams powder.
Optimum Nutrition Pro Gainer also comes in just two bottle sizes – you can choose between a five-pound or a 10-pound container. A five-pound container costs $39.78, and a 10-pound container costs $73.94. Each serving consists of 165 grams of powder.
At first glance, the Serious Mass supplement might seem like the cheaper option – you pay $26.24 for a six-pound container. Take the servings into account, however, and you will find that the Pro Gainer option provides more servings in each container – due to the smaller amount of powder needed for a full serving of the supplement.
Pro Gainer Vs. Serious Mass: Which Supplement Is The Best?
We have taken a closer look at a comparison of Pro Gainer vs. Serious Mass. The comparison should give you an idea of how the two supplements differ from each other – but you may still wonder which of the two products is the best.
The reality here is that neither can be considered the absolute best for every single skinny guy who wants to pack on a few extra pounds as muscle mass. The differences present between the two supplements makes each of them ideal for a specific audience – thus, you rather need to ask which of the two supplements would be the best option for you in particular.
To determine which supplement will work for you the best, consider your own needs. If you are going to be using the supplement alone as a shake, then a higher carbohydrate content might be a good option.
On the other hand, if you prefer to make your own shake and add the supplement, then the lower carbohydrate option might be the more appropriate product for you.
Budget is another factor that you will need to take into account. If you have a higher budget, then you can obviously opt for the more expensive supplement when comparing Pro Gainer vs. Serious Mass.
When your budget is on the lower side, however, consider opting for the product that will give you better value for your money.
Serious Mass gives you a six-pound container for less than $30. On the other hand, opting for the Pro Gainer supplement costs almost $40 for a five-pound container.
You should, however, take note that Pro Gainer uses less of the powder for a single serving – which means this could be a more valuable option if you cannot afford to buy multiple containers of a protein powder supplement each month.
The flavor options are another thing to consider. Both of these supplements come in a variety of flavors. You are unable to buy these in an unflavored variety – which means you will need to decide on a specific flavor option that you prefer and see which one of the two supplements would be able to satisfy your preference for the particular flavor.
Conclusion
Optimum Nutrition is a brand that has made quite a name for itself in recent years, offering customers access to top-quality products at relatively affordable prices.
We compared Pro Gainer vs Serious Mass in this post. With both of these supplements being some of the most popular options from the brand, you may not know which one is right for you.
We looked at how the two supplements differ in terms of more than just the protein content in each serving.
We considered how many carbs and BCAAs you get with each serving, and looked at how they differ in terms of providing you value for your money. Take a closer look at our comparison to help you find the supplement that will give you the results that you desire.