Exercise alone can yield good results when combined with an appropriate diet, but if you are a skinny guy, you might already know just how hard it can be to consume enough calories, carbs, and, of course, protein.
Without the adequate consumption of calories, you may find yourself in a caloric deficit if you exercise regularly.
The result would be further weight loss – and your goal here is rather to enhance your muscle mass.
This is where the best supplements for building muscle comes into play.
There are many supplements that you can use to help increase the rate at which your muscle mass develops.
At the same time, these supplements can help you avoid suffering a caloric deficit – which will cause weight loss instead of allowing you to gain in mass.
The Most Important Supplements For Muscle Building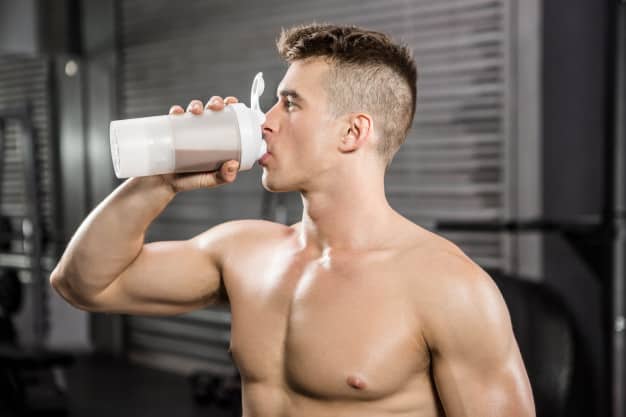 Even though many supplements are promoted to help a skinny guy gain in muscle quickly, it is important not to make an uninformed decision. You want to increase your muscle mass to have something more than that skinny physique to show off – which means you need to know exactly what ingredients to look for during the shopping process.
We will consider five top ingredients included in supplements that are highly effective when you are trying to increase your lean muscle mass.
In addition to sharing some of the best ingredients, we also consider a few of the top supplements that you should consider buying if you wish to take advantage of the benefits that come with the use of each compound.
1. Protein
At the top of the list would be protein – this is obvious for anyone who has tried to build more muscle mass in the past. Protein is one of the most crucial factors that are needed to build muscle mass in the human body.
Studies show that for muscle growth to be possible, you need to consume a larger amount of protein that the rate at which the body breaks these compounds down.
Different types of protein supplements are available. The most common options include soy protein, casein protein, and whey protein. There are also some supplements that contain protein isolates – these are usually extracted from chicken, beef, or eggs.
One study provided evidence that protein supplementation can provide an effective increase in the growth of muscle mass, particularly when compared to those who simply increase their carb intake.
Let's consider a few of the best options when it comes to buying a supplement to help increase the amount of protein you consume on a daily basis.
Body Fortress Super Advanced Whey Protein Powder
This supplement is affordable and comes in a five-pound container. Each serving gives you a 60-grade dose of protein.
The supplement also contains many added ingredients, such as 12 grams of BCAAs – thus making this a more balanced option when it comes to providing your body with the perfect combination of ingredients for muscle growth.
The supplement uses 100% whey protein powder. It is a gluten-free and aspartame-free product. You can choose between two flavor options when you buy the supplement – including chocolate and vanilla. Only a single serving of the protein powder is needed each day.
Buy this Supplement
---
Optimum Nutrition Gold Standard 100% Whey Protein Powder
Another excellent option when it comes to a pure whey protein product. The product is available in a powder form, which you can mix with milk or water, dependent on your personal preferences. There are two different flavors that you can choose from, including French vanilla crème and double rich chocolate.
An alternative option is available that combines protein and creatine. You can choose between a variety of container sizes, ranging from a one-pound bottle all the way to a 10-pound container.
Buy this Supplement
---
2. Creatine
Creatine is another important supplement that you should consider if you are looking bulk up with muscle mass. This is a compound that the body already contains naturally. It is a critical molecule that helps to provide energy to tissue throughout the body – including muscle tissue.
The use of a creatine supplement can increase the bioavailability of the molecule in muscle tissue. The result is an increase in muscle energy. What this essentially means is that a creatine supplement is likely to help boost your performance during exercise.
It would also have a positive effect on the growth rate of your muscle tissue. There is also evidence available that shows creatine to be an effective supplement for increasing muscle strength.
We share some of the top creatine supplements you should consider below.
Genius Creatine Powder
This is a powder-based creatine supplement for those who prefer not to use a dietary pill as a way of increasing creatine content in their bodies. The supplement uses natural ingredients and avoids the inclusion of fillers and other synthetic chemicals.
There is a total of 188 grams of powder in each container, and the product features a sour apple flavor. Creatine HCL is utilized in the supplement to help increase the potency of the product, while also making it easier for the body to absorb the creatine.
Buy this Supplement
---
BulkSupplements Creatine HCL Powder
The Bulk Supplements Creatine HCL Powder is another excellent option, offering a 99.99% pure micronized creatine HCL dose in each serving of the product. The package comes in two different sizes – this including a 2.2-pound bag and an alternative 17.6-ounce bag for those looking to avoid buying in bulk.
The supplement is certified non-GMO and has been lab-tested to prove the purity and overall quality of the product. The powder-based supplement is simply combined with water to make a quick and convenient pre-workout shake. Creatine hydrochloride is used in the product to help enhance the absorption and make the product more effective.
Buy this Supplement
---
3. Beta-Alanine
Beta-Alanine is often an overlooked supplement when it comes to building muscle mass – particularly because the ingredient itself will not actually cause your muscle tissue to grow at an accelerated rate.
This is an amino acid – essentially one of the building blocks for proteins in your body. Beta-Alanine serves a function of providing energy to your body. The use of this supplement may help to reduce the risk of experiencing fatigue during your workout sessions – or at least delay the onset of fatigue.
Additionally, studies also show that a Beta-Alanine supplement can effectively enhance the overall performance during exercises and even intense workout sessions.
Nutricost Beta Alanine Powder 300 grams
The Nutricost Beta Alanine Powder is definitely one of the most affordable options you can find – and at the same time, the product is able to deliver a high-quality, pure Beta-Alanine supplement for those looking to enhance their performance during intense workouts.
The supplement is delivered in a powdered form, making the consumption of the Beta-Alanine exceptionally easy and convenient. Each container offers 10.6oz worth of the Beta-Alanine powder.
There is a three-gram serving of the Beta-Alanine active ingredient contained in each scoop of the powdered supplement. This is a non-GMO and gluten-free product – and it has undergone appropriate third-party laboratory tests.
Buy this Supplement
---
4. Beta-Hydroxy Beta-Methyl butyrate
Beta-Hydroxy Beta-Methyl butyrate is also called HMB for short. This is another type of molecule that the body naturally produces. It helps with the production of leucine, an important amino acid that has a function to play in the synthesis process of proteins.
When an HMB supplement is used, it may assist in reducing the rate at which the body breaks down muscle proteins.
An increase in muscle tissue is only possible when there is more protein in your diet than the number of muscle proteins your body breaks down. Thus, this particular supplement can help to lower the number of proteins that your body will break down – thus making it easier to reach a stage where you consume more protein than what is broken down.
There are studies that have even shown the use of HMB to be useful among people who have not been participating in a regular exercise routine. Gains in muscle mass were significantly increased among participants who took an HMB supplement compared to the control group.
NatureBell Maximum Strength HMB Capsules
When it comes to an HMB supplement, quality, and dose per serving are key elements to consider.
The NatureBell Maximum Strength HMB Capsules Supplement gives you a one-gram dose of Beta-Hydroxy Beta-Methyl butyrate in every single serving. Each bottle also contains a total of 180 capsules, providing maximum value for your money – especially considering the price tag that falls below $20.
The NatureBell Maximum Strength HMB Capsules Supplement is a non-GMO product. Furthermore, no gluten or dairy is used in the production of the supplement, along with no soy or sugar.
The manufacturer of the supplement sends the product to a third-party laboratory for testing purposes, ensuring these pills are of the highest quality in terms of HMB supplements.
Buy this Supplement
---
5. Branched-Chain Amino Acids
Another important supplement to consider is Branched-Chain Amino Acids. This is actually a collective term that is used to refer to three different amino acids.
The three amino acids that make up BCAAs include:
Leucine
Valine
Isoleucine
All three of these amino acids are important for allowing muscle growth in the human body. There are also many studies that support the use of BCAAs among athletes and bodybuilders, as well as the average person who is looking to gain in terms of lean muscle mass in their bodies.
While BCAAs are found in a large number of foods, there are certain benefits that you could experience when you decide to take a supplement that contains these three amino acids. Research shows that the use of a BCAA supplement could assist in increasing the amount of muscle growth experienced through intense strength training workouts.
At the same time, the research shows that these supplements could also reduce the rate at which muscle mass is lost – another critical factor for a skinny guy trying to bulk up.
Do Vitamins Branched Chain Amino Acid Capsules
If you want a pure supplement that focuses on quality instead of overwhelming a customer with promotional messages, then the Do Vitamins Branched Chain Amino Acid Capsules would be the perfect supplement. The product comes in a capsule form by default but is also available in the form of a powder.
This supplement offers a 2,100mg dose of BCAAs in every single serving. The three essential BCAA amino acids contained in the supplement are provided in a ratio of 2:1:1, with L-Leucine making up the majority of the amino acid content. The product is gluten-free and a certified non-GMO supplement.
Buy this Supplement
---
Choosing The Best Supplements For Building Muscle
Considering the ingredients that are utilized in a muscle-building supplement is one of the very first steps to take. This helps you get a view of how effective a particular supplement could be. It also helps to reduce the risk of buying a supplement that is filled with artificial ingredients that may not be deemed safe for your general health.
Apart from considering the specific ingredients that are included in a specific supplement, there are a few other things that you need to look at. Let's consider a few of these factors below.
Amino Acid Profile
The use of muscle building supplement relies significantly on the amino acid profile that is included in the product. This makes it critical for you to consider the specific amino acid profile that you get with the consumption of each serving.
Consider the specific amino acids contained in a supplement you are interested in. Most supplements will provide you with a complete overview of both essential and non-essential amino acids that you get with the consumption of the product.
Note that there are a lot of amino acids, and they will not all contribute to better muscle growth and recovery. Branched-Chain Amino Acids are often considered some of the most critical ones for people who would like to experience an enhancement in their lean muscle mass content.
The three main amino acids you want to look at in this case include isoleucine, valine, and leucine.
There are other non-essential amino acids that are also useful.
Do not only look at the specific amino acids that are found in the supplement. You should also consider the specific dosage of these amino acids. There is no use in investment in a muscle-building supplement if the delivered amino acid content is too low to yield any effective results.
Product Reputation And Trust
There are millions of people who are looking to gain muscle mass – and many of them have been able to achieve effective results in the past. You can use this to your own advantage – particularly; you can use this as a way to determine the trustworthiness and reputation of a particular supplement that you might want to buy.
When you are looking at a specific supplement, do some research before making a purchase. Take a look at reviews that previous customers have left for the product. There are many online sources for reviews, including Amazon.
The review section on a product page will tell you how people experience the benefits and effects of the product. Avoid products that do not seem to yield effective results. This can save you a great deal of money in the long run.
Budget
Your budget is something that you need to take into consideration, as well. Take a quick look at the massive variety of muscle building supplements on the market that is perfect for a skinny guy – you will find that the pricing differs quite a lot.
Going into the process of buying one of the best supplements for building muscle without knowing at least more or less, how much you can spend can quickly turn into chaos. You can easily overspend on this type of product.
Set a limit on the amount that you will spend on the product before you start to look for an appropriate supplement.
When looking at the pricing of supplements, be sure to compare multiple options that are able to deliver the ingredients that you need in your workout routine. You might find that prices can vary for supplements that are very similar – this helps you find the best deal on the market.
Frequently Asked Questions
How do you increase muscle mass?
As a skinny guy, you may frequently ask how you can gain more muscle mass. This is a feature desired by a lot of skinny guys, as the increase in muscle mass is usually considered a more attractive physical trait. You also get health benefits when you go from underweight to a healthy weight, particularly when the increase in your body weight comes from lean muscle mass.
The first way to increase muscle mass is to ensure you eat an appropriate diet. You need to ensure your body gets enough amino acids and protein, as well as carbohydrates. Your calorie intake needs to be higher than the number of calories you burn through physical activity – otherwise, you will be losing weight instead.
You should also focus on participating in more strength training exercises as part of your workout routine. This is another essential part of building muscle mass. By simply focusing on increasing your food intake and avoiding exercise, you would ultimately end up gaining weight as fat instead of muscle mass.
If you find it difficult to consume enough calories, consider utilizing a supplement specifically developed for muscle building. There are a number of options that may be considered among the best supplements for building muscle.
Are supplements necessary to build muscle?
The excessive promotion of muscle building supplements makes a lot of people think that they can only build more lean muscle mass if they turn to these products.
The answer to this particular question really differs from one person to the next. Some skinny guys are able to bulk up without the use of a supplement – yes, it is completely possible. This, however, is only a possibility if you have the time and effort to prepare appropriate foods that can push up your calorie intake on a daily basis.
The use of a supplement can make things easier. Muscle building supplements will usually contain ingredients that help to improve muscle protein synthesis. This helps to increase muscle mass faster while also reducing the time needed for muscles to recover after an intense workout.
Does creatine cause hair loss?
Some publications have noted that creatine may be a factor behind hair loss in mind in the past. This could cause some confusion – especially since we just recommended you try a creatine supplement.
The truth is, creatine supplements will not actually cause you to start experiencing hair loss all of a sudden. At the same time, you should note that creatine may potentially cause an increase in DHT levels in your body. This, in turn, might cause a slight increase in the rate of hair loss – but only if you have already started to experience a receding hairline.
Conclusion
There are a lot of supplements that you can take advantage of to go from skinny to toned. The problem, however, is that not all of the products on the market are able to deliver effective results. You need to do careful research to understand what ingredients would provide you with the most benefits. This will allow you to know which supplement to look for and what particular factors to consider when shopping for the best supplements for building muscle.
We shared five of the most important ingredients to consider when buying a supplement to help you gain in terms of muscle mass. We also shared some of the top-rated supplements you should consider in each category. Consider the effects of each category and then create a supplement program that will be beneficial to your workout sessions.