Serious mass Vs Gold Standard gainer comparison is important for individuals interested in the age-old practice of bodybuilding and muscle growth. Both men and women are now obsessed with gaining mass and have thus devised means and ways of achieving this objective in weight lifting and strength training, which enhances muscle strength and encourages the development of the skeletal muscle.
A lean body with the right abs and a perfectly toned physique dispels confidence and looks good in different outfits. However, the most significant benefit of working out that most people overlook as they rush for the cosmetic look are the health benefits aligned therein, which are also not very obvious.
The human body can barely keep up with the intense training because the minerals produced by the body cannot hold up through the sessions and that is why there are supplements developed to help boost activity. Serious mass and Gold Standard Gainer are such supplements that help people gain weight, the excerpt below will breakdown the differences and benefits of the two supplements in muscle gain.
Serious Mass Composition
Serious mass is a supplement designed specifically to help people build some extra muscle mass, increase their volume and strength. So what gives serious mass the properties to help people improve their muscle mass, let us look at its composition.
Every two scoops of serious mass that you partake contains a mixture of proteins which are (Calcium caseinate, whey concentrate, and egg white).
Proteins are the building blocks that the body's muscles need and when taken in the right quantities individuals stand to gain from improved muscle growth, especially when coupled with strength training.
The pre-existing muscle mass will also be maintained, remember that for a food substance to qualify as a protein it has to include amino acids.
Eggs do contain a large number of amino acid leucine which is especially important in helping with muscle gain. Still, on the composition of serious mass, we discover that it has incorporated sodium chloride, salt is an important component to your body if you plan on attaining muscle mass.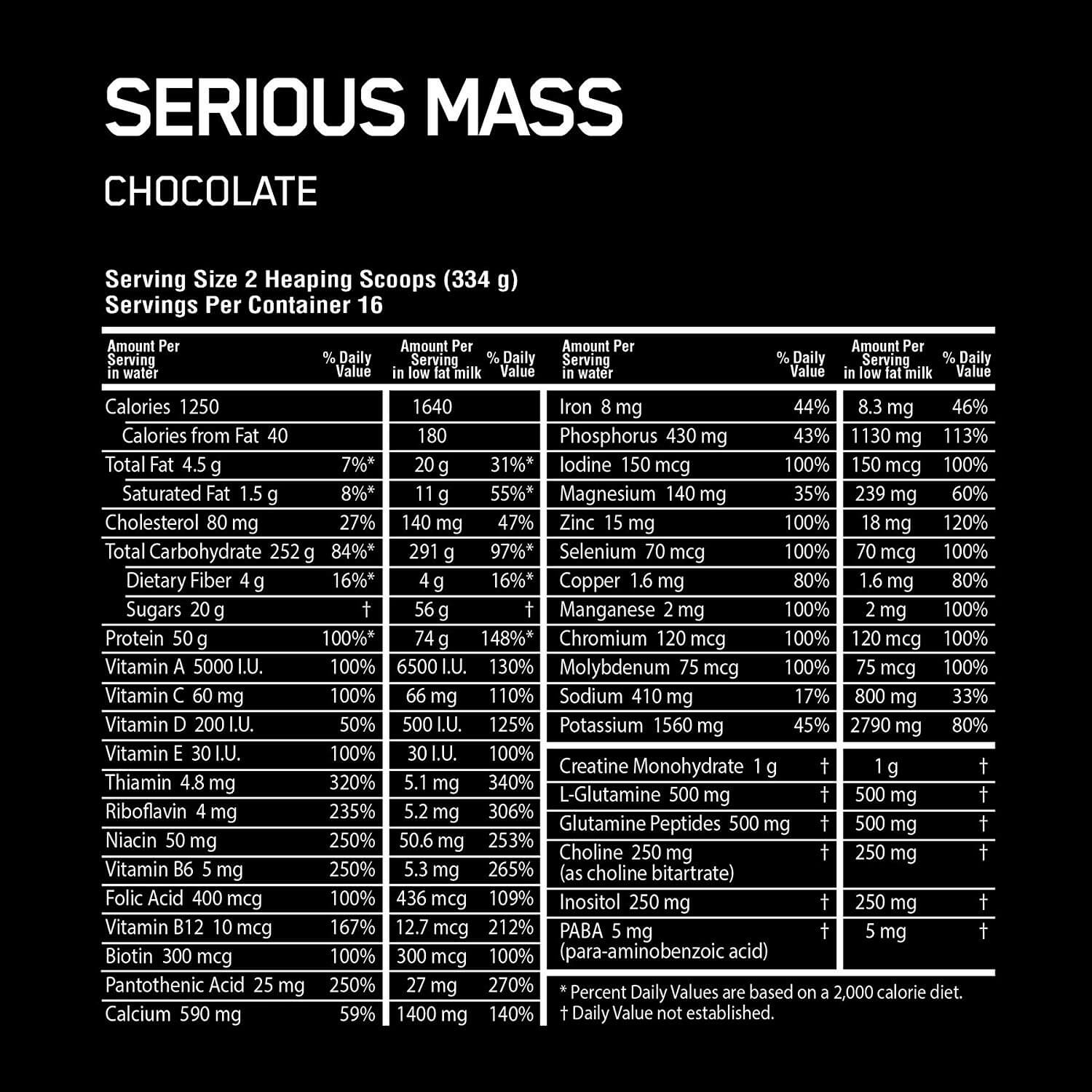 Salt helps regulate muscle contraction a thing that is achieved by triggering the nerve impulses and mind you when the sodium levels are not at the required levels, the nerve signals will go haywire and that is when you will experience cramps. Sodium also helps regulate blood volume and encourages nerve function.
Even more important is that it regulates the fluid levels in the body, therefore, if you don't include enough sodium chloride in your diet, working out and muscle building will prove to be an uphill task because you will suffer from dehydration, muscle cramps and in worse case scenarios you might suffer from organ failure.
Another important mineral incorporated in Serious Mass that will help you gain muscle is copper gluconate.
The latter is needed by the body for the protection of the cardiovascular skeletal and the nervous system, the mineral also works to enhance nerve function, helps process sugars and encourages bone growth.
Gold Standard Gainer Composition 
A closer look at the Gold Standard gainer reveals that it is packed with proteins, which as we have established above contains our muscles building blocks.
The constitution of proteins in this supplement is a bit different when compared to the serious mass because one scoop of the gold standard contains a blend of "whey protein isolate, whey protein concentrate, hydrolyzed whey protein, and milk protein isolate."
Whey protein seems to be the major ingredient in the Gold standard gainer meaning that you will not benefit from eggs and sodium chloride that have been used in the manufacture of Serious Mass supplement.
Not to worry though because whey protein will supply your body with the essential amino acids that will help you gain muscle and in the process increase strength.
The serious mass has also incorporated casein in its formulation, which has not been mentioned in the standard Gold gainer but you will surely benefit from it because of the inclusion of the milk protein isolate. Important to note is that milk contains up to two main types of proteins, which are casein and whey.
The Gold Standard Gainer in its protein constitution contains different forms of the whey protein, one which is the hydrolyzed whey protein, and hydrolyzed whey means that it is a broken-down version of whey that can be easily accommodated by your digestive system and has been proved to deliver a muscle friendly protein to the body.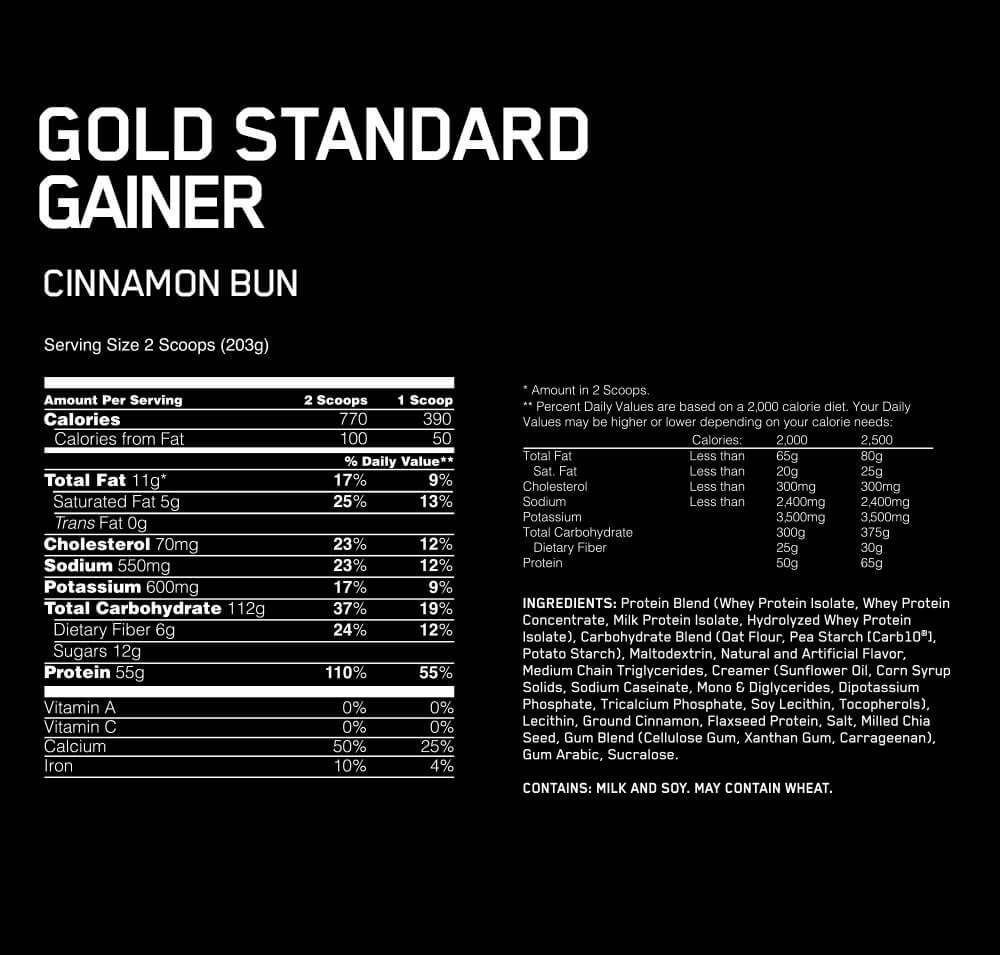 Another version is the whey protein isolate; during preparation, whey protein isolate undergoes more processing that consequently results in higher protein content with fewer carbs, fat, and lactose.
We then have the whey protein concentrate, whose function is to maximize muscle hypertrophy, and by consuming this specific mineral you get to benefit from high protein and low fat. Your body will also benefit from a solid source of amino acids and besides, it is a complete protein.
The Gold Standard Gainer has also incorporated carbohydrates in its composition and this one you will benefit in the form of pea starch, Oat flour, and potato starch.
During the intense work out sessions as you aim to build muscle, carbohydrates are needed to provide the body with energy that will be consumed during the tough workouts.
Also, carbohydrates help replenish the energy stored in the muscle and this is in the form of glycogen. Serious mass has used artificial ingredients (flavorings and sweeteners) to enhance the taste of the muscle growth supplement whereas; the Gold Standard Gainer hasn't used any flavorings or sweeteners.
Dosage
The Gold Standard Gainer can be taken at three different times and that is between meals so that it can support a high-calorie diet. It can then be taken after workouts, to boost your body and encourage quick recovery after a workout. Lastly, it can be taken before bed and that is at a time difference of 45 and 60 minutes so that when you go into sleep, your body can recover fully.
The dosage of the serious mass gainer isn't any different from the Gold Standard Gainer, as you can take it between meals to help support a high-calorie diet and also for a positive nitrogen balance.
Another dose of the supplement after training will help encourage rapid regeneration, and another one before you go to bed will ensure that your body is restored.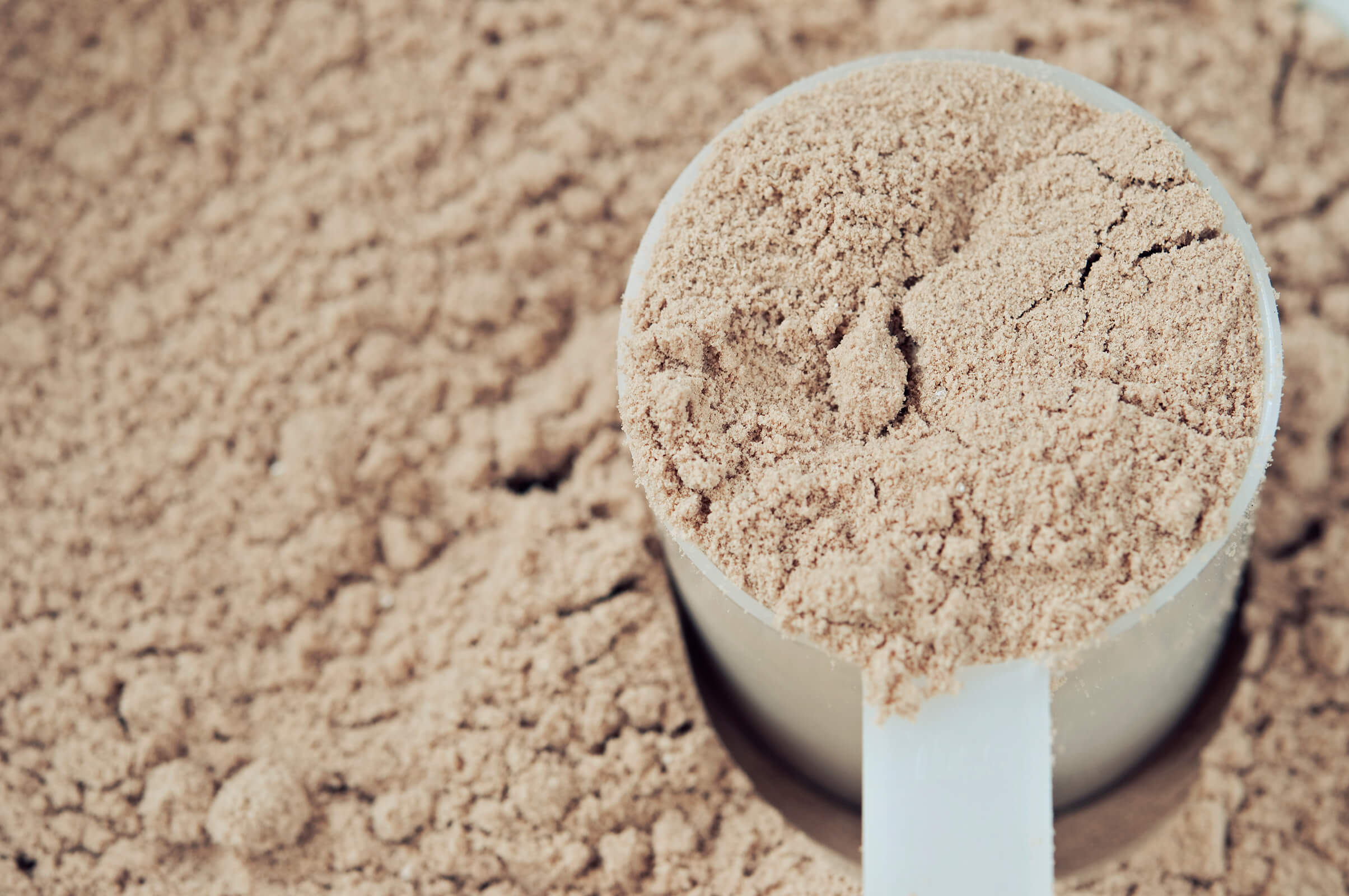 Side effects
Supplements don't sit well with everyone, for some people it might work but for others they might not be able to go through after the first dosage because of the effects of the side effects.
However, there are people who tend to think that by taking huge doses of the supplements they will then experience better and quicker results, which is normally not true, as you will most likely end up becoming sickly.
When you take high doses of the Serious Mass supplement, for example, you will experience increased bowel movements, bloating, nausea, thirst, headache, fatigue and a lack of appetite.
The Gold Standard Gainer on the other hand, when taken in the recommended doses will not impact your health negatively but when consumed in large portions, then it is believed to cause gastrointestinal discomfort.
And if you have been keen both of these supplements contain whey protein as their primary ingredient. Whey is thus composed of alpha-lactalbumin, immunoglobins, bovine serum albumin, and beta-lactoglobulin, the above interact well with the body and will enable your body to benefit from reduced cholesterol and experience weight loss.
What exactly does it take to build muscle mass
Human beings always seek quick gratification, when you see someone with a lean body and desire to look the same you think it is a one-month affair, but when you get into the process it then hits you that you are going to take more time than you had actually anticipated.
Gaining body mass takes time and the only way to ensure that you actually achieve this objective is by engaging the right nutrition, taking a lot of rest especially if you hurt your muscles during training.
And lastly and the most important is that you have to be consistent in training and please don't do the light workouts only, after you have outgrown a specific workout, consult with your trainer and advance to the more intense workouts to achieve your desired results. Now when it comes to nutrition, you obviously are not going to solely depend on your supplements to do the magic but you also have to watch what you feed on.
Nutrition
Remember supplements do not cover the whole percentage of your total mass gain but just a small fraction, the rest of which is completed with the foods that you consume, training, water and rest.
You should, therefore, consume foods that will especially help you to gain lean muscle, some of the foods that will help you attain the above objective are such as the Greek Yogurt, which contains a good amount of fast-digesting whey protein and the slow-digesting casein protein.
Consuming both the fast and the slow-digesting proteins has been proved to increase lean mass, and though it is not advisable to be snacking on Greek Yogurt all the time, taking it immediately after a workout or before going to sleep, will greatly enhance your health. Lean beef contains high-quality protein, minerals, creatine, and B vitamins.
Lean red meat is thus believed to contribute to mass gain but when coupled with weight training. It is, however, advisable that as you engage your muscle gaining journey, you select the type of beef that will encourage muscle gain without encouraging the gaining of the extra calories.
Eggs are a source of high-quality protein and remember that proteins are made up of amino acids. From our review above, eggs have been determined to contain huge amounts of the amino acid leucine that is specifically used to help with muscle growth. And last but not least, we have salmon that is very beneficial for the overall health and even more important when it comes to muscle building.
Salmon contains proteins about 17 grams, the omega 3 fatty acids, and the B vitamins, by including it in your diet your muscular health will receive a boost from the omega-three fatty acids, it is also believed to help increase muscle gain during the work out sessions.
Consistency in exercising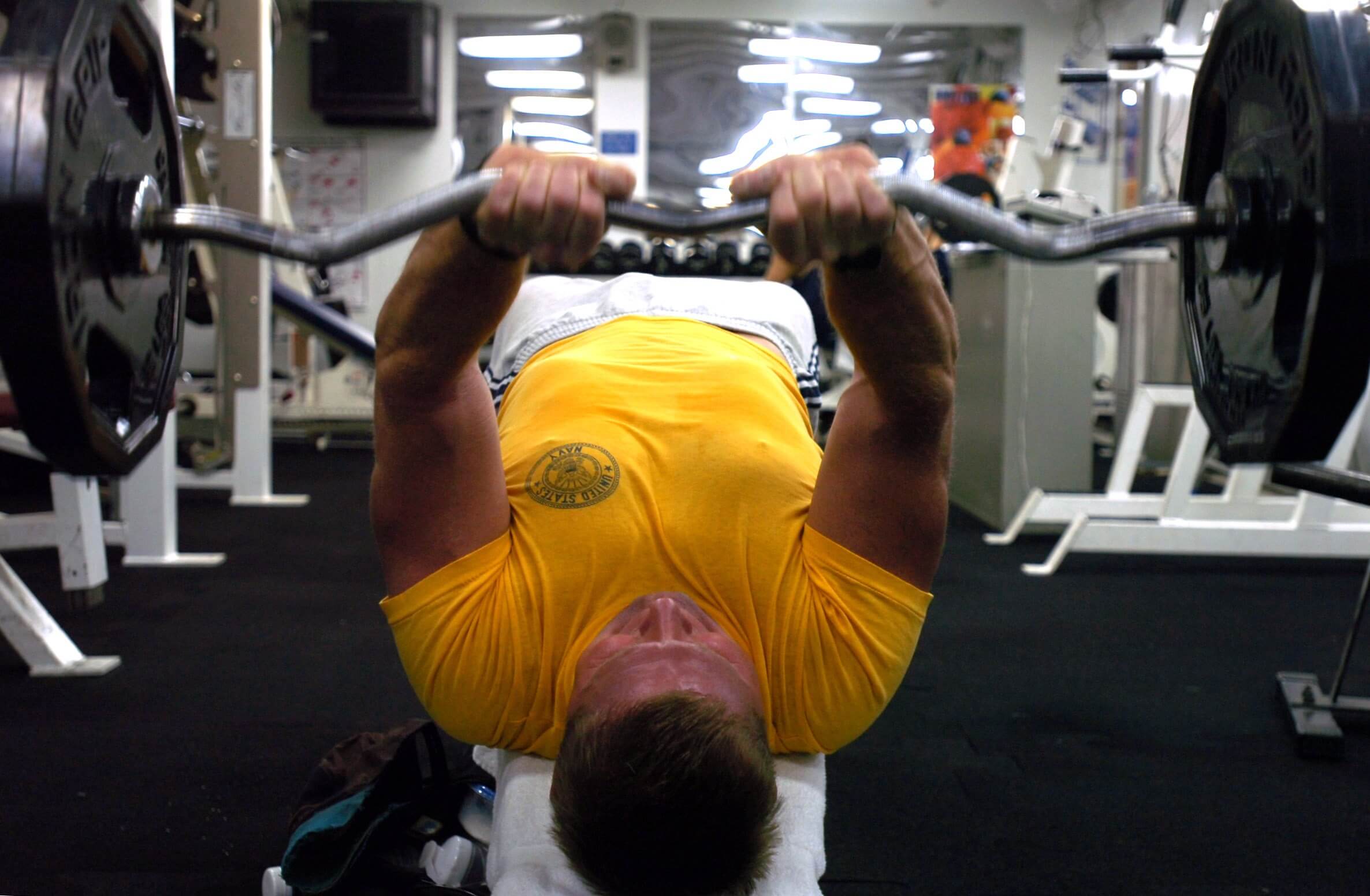 Every good thing is a result of sacrifice, perseverance, and consistency, so when you see people with toned bodies then you know that they put in the hours consistently.
If you don't have enough motivation to go to the gym every day in the morning or evening then join a group. Alternatively, you could join the theatre gyms as you begin and as you get into the more serious workouts you could shift.
When you exercise frequently and train your body muscles to the point of momentary muscular failure, a microscopic tearing develops at the muscle tissue which then encourages them to grow and strengthen.
Consistency will then give your muscles the chance to get stronger. You should, therefore, progressively switch to heavier weights and as you do this you need to also go slow on the repetitions.
Consistency ensures that your muscles don't stop to grow or shrink, and the reason as to why you should change your routines from time to time is to exert enough pressure on your muscles. Remember that your muscles will not grow unless they are constantly stressed, and if the stress remains constant then they will either shrink or stop growing.
If you put your nutrition and workouts in order, you will achieve results much quicker than anticipated.
Performing a consistent routine will give you more consistent results, especially when it comes to muscle/mass gain. Learn secrets behind progressively using heavier equipment for the best and fastest results.  Click below for a comprehensive program and guided routine on how to gain more muscles.
Click To Learn More!
Rest
Remember that pain is not part of the package during the workout sessions, and as you engage the high-intensity workouts your muscles will most likely get fatigued and cramp, but in case you experience a lot of pain that could be a sign that you have hurt your muscles. And this is when rest is mandatory at least until you have healed completely.
Taking a rest during this period protects your muscles from further injury, and besides hurting yourself you also need about 6 or 8 hours of uninterrupted sleep. Remember that this is the period that your fatigued muscles get restored and the supplements that you take get the chance to work on your body.
Good uninterrupted sleep will help maintain your mental health and when you get up the next morning your body will be renewed ready to take on a thorough gym beating.
Gold Standard Gainer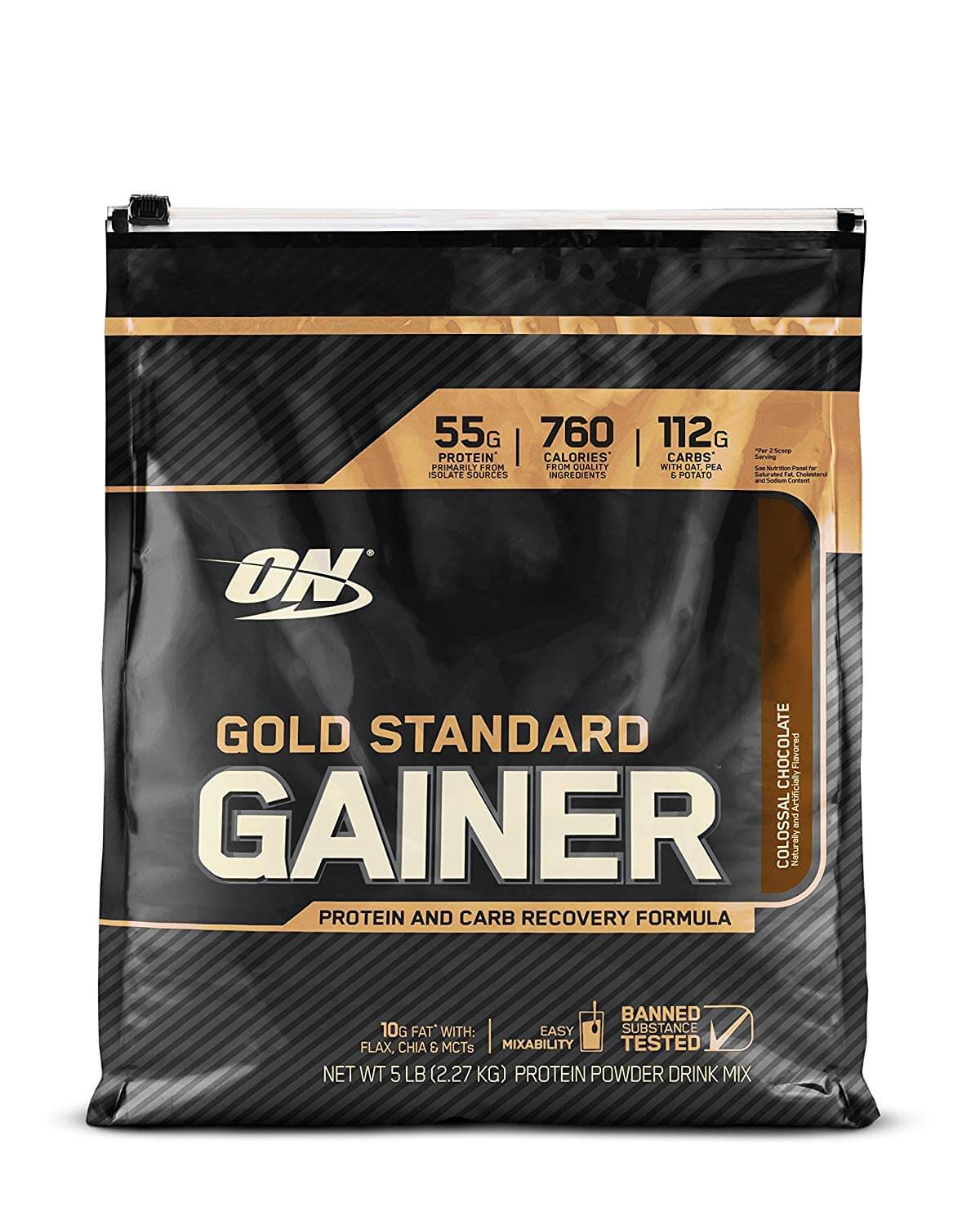 Gold standard Gainer has been designed for use by athletes and individuals who are interested in gaining muscle mass while increasing their overall strength. And for ease of use the manufacturer has ensured that it is easily soluble, for use with a shaker thus obliterating the need for a blender.
The gainer has incorporated proteins and carbohydrates (potato, oats, and peas) in its formulation each of which plays an important role in muscle growth.
The supplement is naturally flavored and will nourish your body with proteins from isolate sources. In addition, you will also benefit from fats that have been derived from (chia, and flax).
Pros
Each serving of the Gold Standard Gainer weighs up to 760 calories all designed to help you develop bigger and stronger muscles
The gainer is easy to mix first because it is soluble and secondly it doesn't need a blender to get a smooth consistency
Can be taken after workouts to help restore the body's muscles
When combined with exercises, the gainer encourages weight gain performance
Cons
The taste may not be very pleasant
The consistency tends to be very thick and might need an addition of liquid for it to be consumable
Serious mass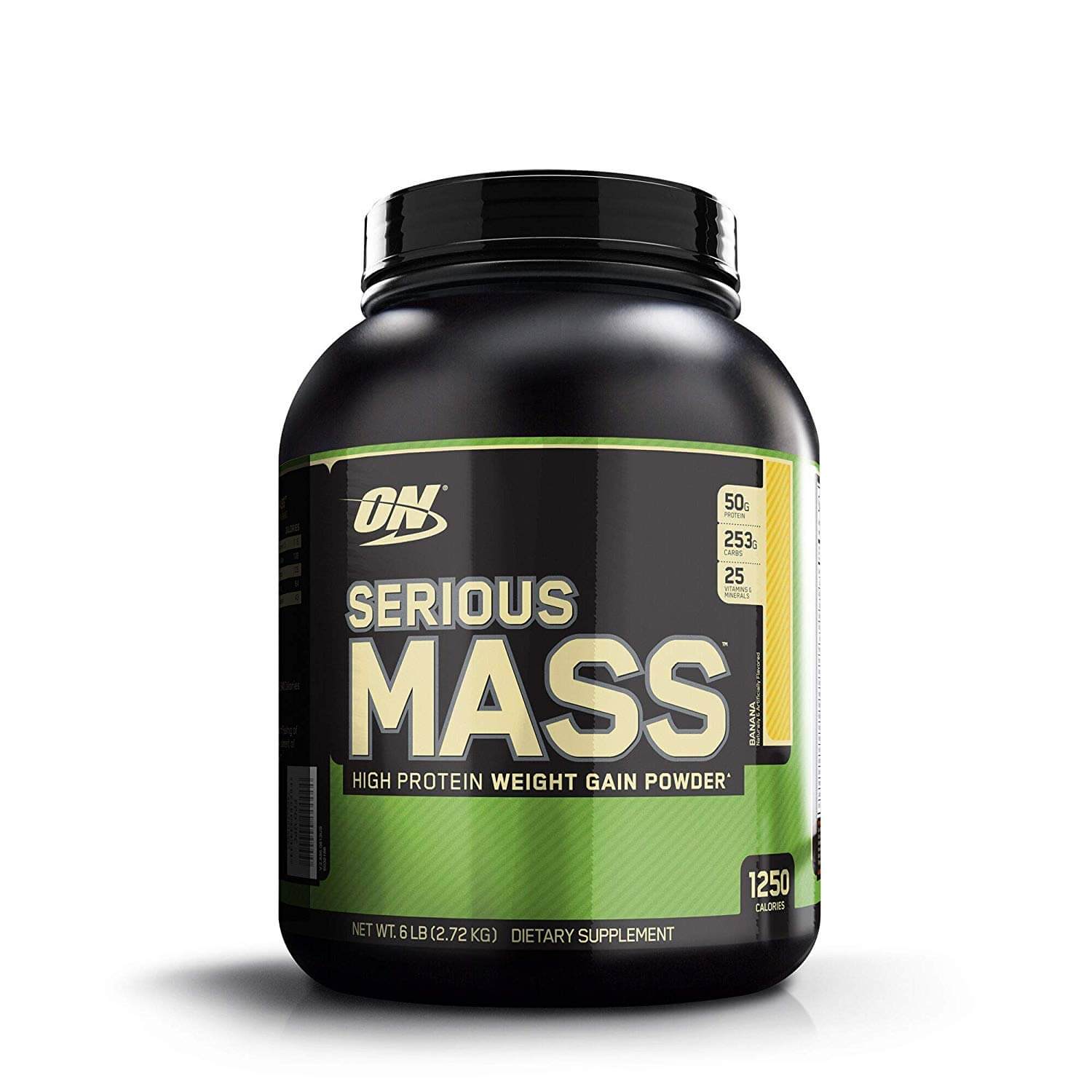 Serious Mass is an effective weight gain formula that has incorporated up to 1,250 calories in every serving and about 50 grams of proteins to help in muscle recovery. Serious mass can be used by both professionals and beginners that wish to gain some weight and improve their muscles.
The supplement has been equipped with proteins, which apart from helping you gain mass, they are also necessary for hormone, body chemicals, and enzyme development.
Users also get to benefit from minerals, amino, and glutamine; which have been known to encourage muscle building and boost the body during workouts.
The formulation of serious mass aims at promoting the overall health and function of the body, for example, it has been equipped with glutamine to help boost metabolism and offer strength for the high-intensity workouts. After which the incorporated amino acids will ensure rapid recovery of the fatigued muscles.
Muscle mass is also enhanced by the calories while strength and stamina get their support from proteins. Important to note is that Serious Mass cannot work alone to enhance your body's physique, but rather with a combination of the right diet and exercises.
Pros
Cons
The taste may not be very pleasant
Foods to avoid when building muscle mass
As we have established nutrition is one of the important facets of mass building, but how disciplined does one have to get. Gym goers know how far food discipline can take you, there are some foods and drinks that are a taboo once you start working out and aim at achieving certain body goals.
Though sometimes it becomes very hard when you are on such a journey and mingling with people who are not in the same space as you are. They, therefore, feed on junk food that is always very appetising and attractive; this then makes it very hard for you to master the discipline of keeping off.
And by the way, once you engage in this journey you will find that you are saving a lot of money that you would have otherwise spent in restaurants or bars. So which are the foods that will most likely inhibit your progress in gaining muscle mass?
Carbonated drinks (soda)
Many people have this misconception that soda will make them gain weight, but the reality of why you are told not to drink soda is to maintain healthy mental practices. Sugary drinks are not the best even for your overall health but once you start taking them you get easily addicted to caffeine and sugar and finding your way back to the pure water and drinks can be an uphill task.
Alcohol
Alcohol has been known to hamper the body's natural muscle-building function and interferes with the recovery process after an intense workout session. Quitting alcohol is one of the toughest jobs but it is for the benefit of your overall health.
Salted snacks
Ever heard of the cheat day, where you give yourself permission to commit the vice of unhealthy eating, well that can easily spiral out of control and you will find yourself over speeding in the road of self-destruction. Salted chips or pringles are hard to just pick one and leave, and temptations abound both at work and at home.
So how do you beat this, well the best way would be to have something in hand that you can snack on such as beef jerky or better still carry some fruit with you.
Baked foods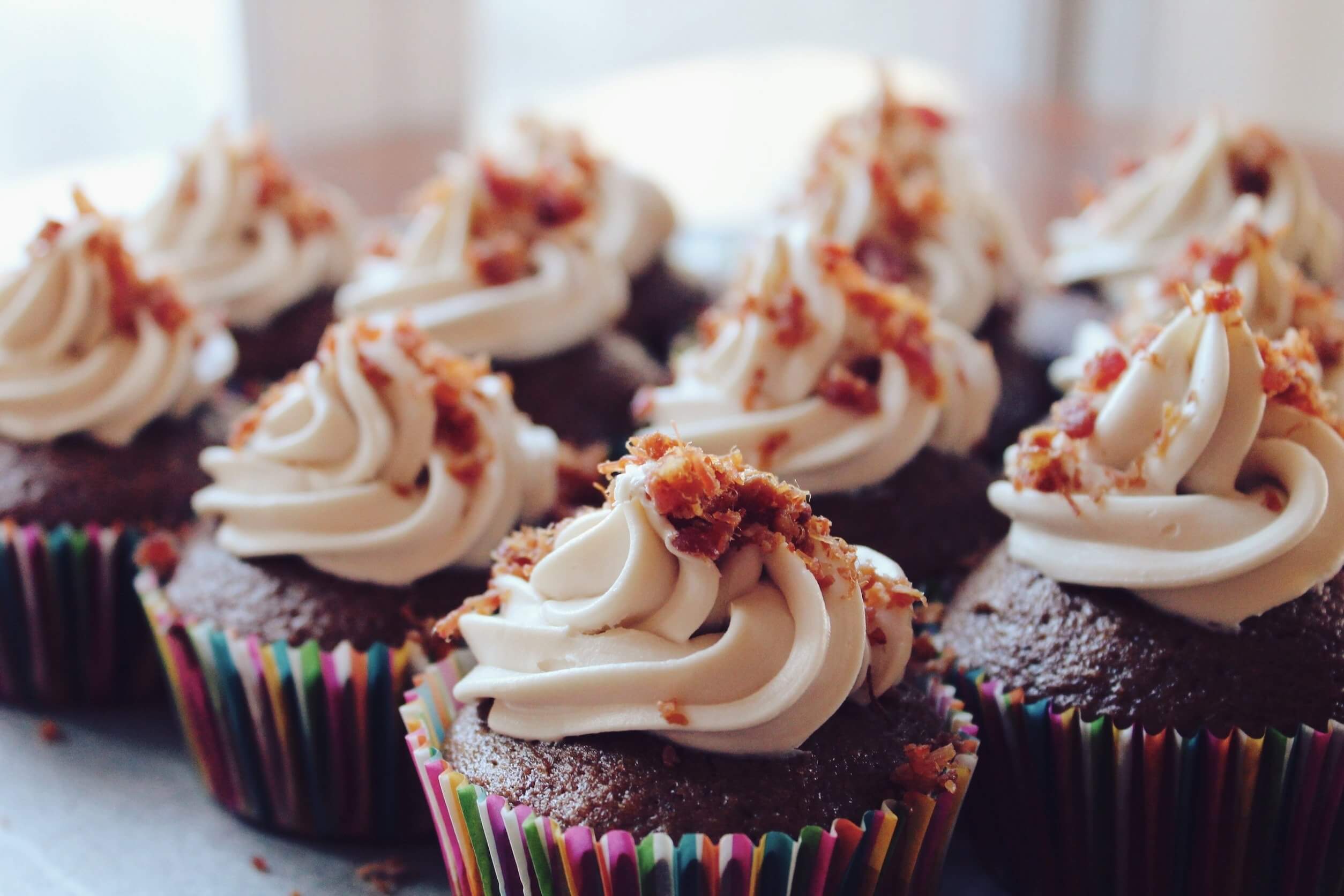 The problem with baked foods for muscle builders is that they contain a lot of calories, carbs, and sugars. But which are of no value if you are in the journey of muscle gain.
Quitting wheat is the toughest thing after sugar, and no matter how hard you try, once you perceive the sweet smell of the baked foods you automatically develop an insatiable desire to partake of them.
So, the best way that you can help yourself is by consuming whole grains such as the whole bread and forget about the pastries made with the white flour.
Lastly, we have processed meats which are very hard to give up, just like wheat and sugar. Processed meat is a health hazard to your overall well being and the best thing that you could do to counter the problem is to feed on white meat and grilled chicken.
Now that you have the complete list of what not to eat, you must be wondering what are some of the best foods for serious mass gain. There is so much you could eat including vegetables; fresh meats and dairy, starchy vegetables, plain vegetables, seeds and natural oils. Meal planning can go a long way in making your fitness programme easier.  Click below for a muscle building cookbook that will help you choose all the right meals and gain muscles fast.
Click To Learn More!
Conclusion
Gold gainer vs Serious mass comparisons can sometimes be difficult because both Serious Mass and the Gold Standard Gainer are great bodybuilding supplements. They have both incorporated the necessary components to enhance muscle growth and to effect a positive change to your overall health.
Taking the supplements should not stop you from eating the right type of food and from resting, remember for you to achieve a lean mass all of the above factors do work harmoniously.