You're finally working toward that body you've always wanted by using the best dumbbell weight for building muscle.
However, you don't always have the luxury of making it to the gym.  However that can not be used as an excuse because that is where dumbbells come in handy.
You can have these in your home gym and even in a small space to get your intense workout done. Some companies make that possible, and that's what we are going to look at here.
We have searched the market and settled on five dumbbells that you can check out if you want to start your home gym.
Before we get to that, let's look at what constitutes an excellent dumbbell. You want to make sure you're getting a quality product too. Let's get started.
Best beginner dumbbells for building muscle
Getting the right dumbbells
Dumbbells are an essential tool when it comes to strength training and, thus, essential to everyone's workout. The other reason they are preferred is for their portability, especially the ones you use at home.
If you're looking to build muscle, then you want something that gives you a variety of weights, and that's were adjustable dumbbells come in.
The fixed ones are great, but along the way, you'd want to lift more. With a fixed dumbbell, you'd have to head to the store to get another one. If your home gym space is small, then you know that's less than ideal.
Adjustable dumbbells
In the market, various brands offer adjustable dumbbell solutions for you. They also come in different shapes and sizes, and even with varying materials used to make the weight plates.
To add in more weight, all you have to do is add more weight plates to the bar. The standard aspect of adjustable dumbbells is they come with plates of varying weights. Therefore, you can add or remove them depending on your ability and also the workout you're doing.
While adjustable dumbbells do sound ideal for a compact workout space, they aren't quite as good when you're doing drop sets or following a workout routine. With fixed dumbbells, you're able to pick the right weight and get going.
With this variety, you do have to stop, add or remove a plate and then get back to training. That's something to keep in mind when you're getting these kids of dumbbells for muscle building.
Getting the right weight for you
With adjustable dumbbells, you have the freedom to start at the right go. Since the plates have different weights, you can start with the one that doesn't cause too much strain or fatigue when lifting.
As your strength increases, you can add more weight plates. It's, however, not about how much you can lift at any given time.
The type of exercise does also plays a part in the kind of dumbbells you get. The muscle group you're targeting will let you know when to reach for the lighter stuff and when to get heavier dumbbells.
For example, if you're focusing your glutes, then a heavier one will do. For the shoulder and other smaller muscle groups, a lighter weight is preferred.
Even if you opt for a fixed weight dumbbell, be sure that you get something based on the muscle groups you're looking to build.
Remember to keep form
Having dumbbells is excellent, but if you're exercising wrong, then you're not getting your money's worth. If anything, it can cause injury to the very muscles that you're trying to build.
Before you get started on weight lifting, turn to the many resources available that show you how to keep form.
It's also something you should continuously keep in mind; when you feel you've lost the right stance, stop. You don't want to target the wrong muscle groups and even hurt yourself in the process.
The great thing about the time we live in is the availability of apps that show you how to do some things. With a weight training app, you can learn the various muscle groups and the correct way to go about working out.
You're also counted down on the reps; it's like having a personal trainer in the comfort of your own home. With the right app, you can track your progress using the journal. You want something to help you look back at and pat yourself on the shoulder.
Top 5 best dumbbell weight for building muscle
Comparison table
---
BowflexSelectTech 552
First, we have dumbbells from Bowflex where each dumbbell has adjustments of about two to five-pound increments when it comes to the first 25 pounds.
The weights are between 5 and 52.2 pounds. In total, you get 15 sets of weights all in one. There is a unique dial system as well, and you can switch between exercises with ease.
Given how they are built, you won't have a cluttered workout space full of dumbbell; the one set will work just fine. Bowflex also gives you a two-year warranty on the weight plates and the parts.
If you're not sure how to get started on your home workout, you can download the BowflexSelectTech App, where you have a trainer lead for the exercises you want. You can also get to journal your progress on the app.
---
Yes4All Adjustable Dumbbells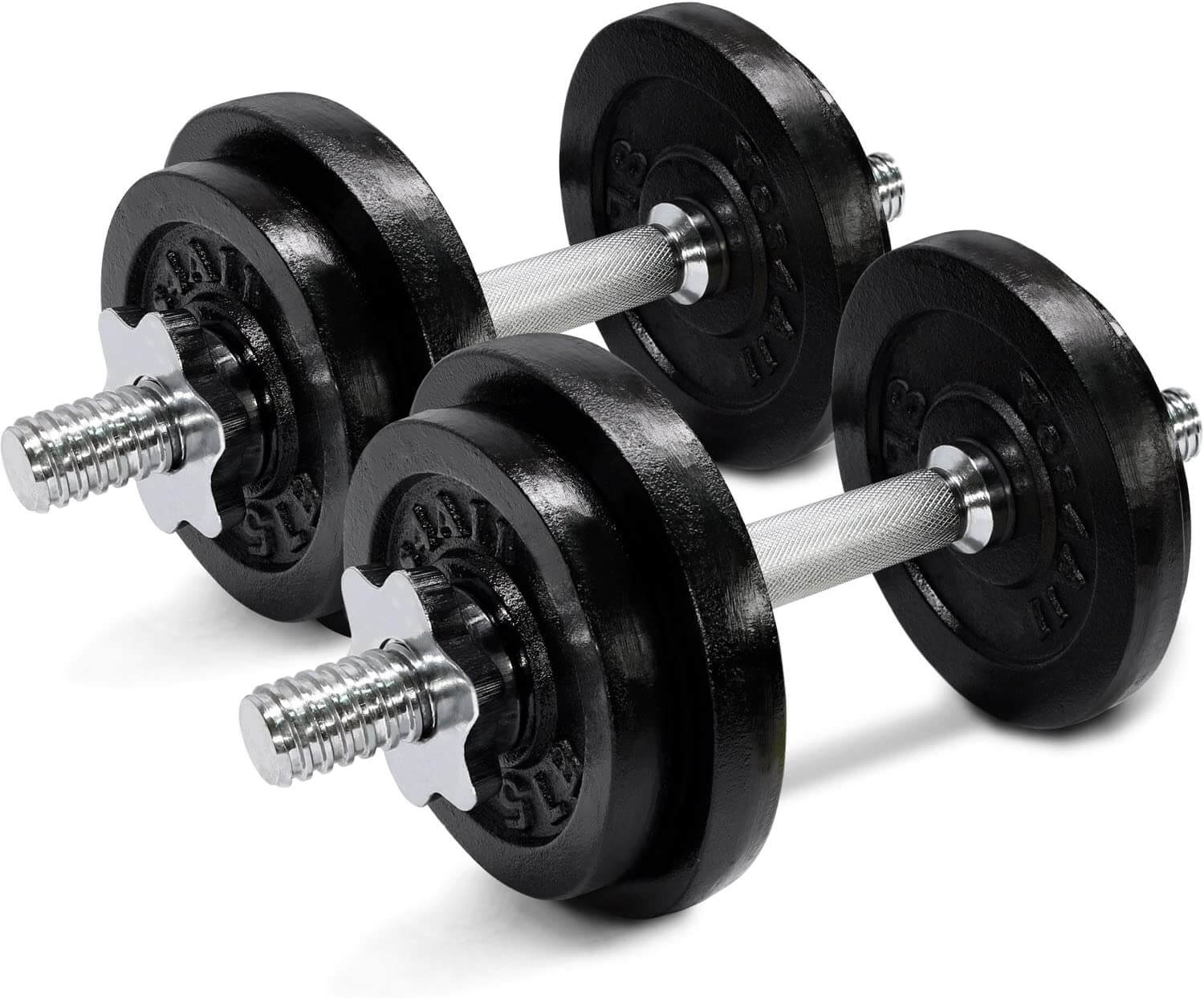 If you're looking for something more heavy-duty, then you can turn to Yes4All to get your dumbbells, this one, in particular, you get two dumbbells with a total of 60 pounds.
There are four five-pound plates, four eight-pound plates, and four collars. With that, you can adjust the weights to suit your workout needs or as you build resilience.
The weight plates are made from cast iron with a one-inch standard bar holding them well together. The plates do have a black paint finish that prevents corrosion or rust, giving you lifetime use.
The handle is made from high-quality textured chrome for a secure and non-slip grip. There are also star-lock collars that keep the plates in place during workouts, secured by rubber trims. Overall, using these dumbbells is easy when assembling. There's a five-year warranty on the plates and parts.
---
Yaheetech adjustable dumbbells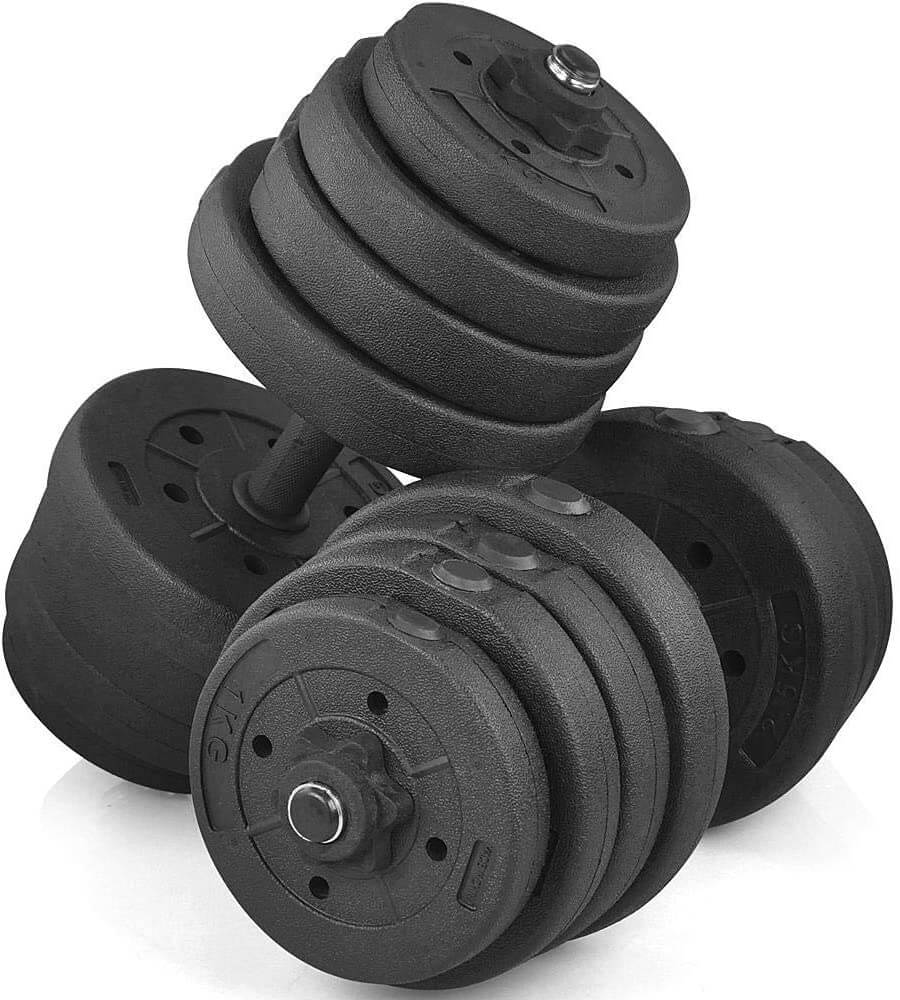 Here we have somewhat different dumbbells in that they have concrete weight plates. They do, however, have a chrome finish iron bar with PE collars.
The chrome bar is anti-rust, so you can keep using your dumbbells for a lifetime of building muscle. As expected, given that it's a set, you get different sized weight plates that you can adjust to reach the desired weight of your workout.
The total weight of the dumbbells is 66 pounds. There are also two pairs of spinlock collars and also a non-slip grip so that you remain safe during your workout.
Whether your focusing on building muscle on your upper or lower body, you can turn to these dumbbells to get the work done. Just as with other brands, the various weight plates come in varying diameters.
---
CAP adjustable dumbbells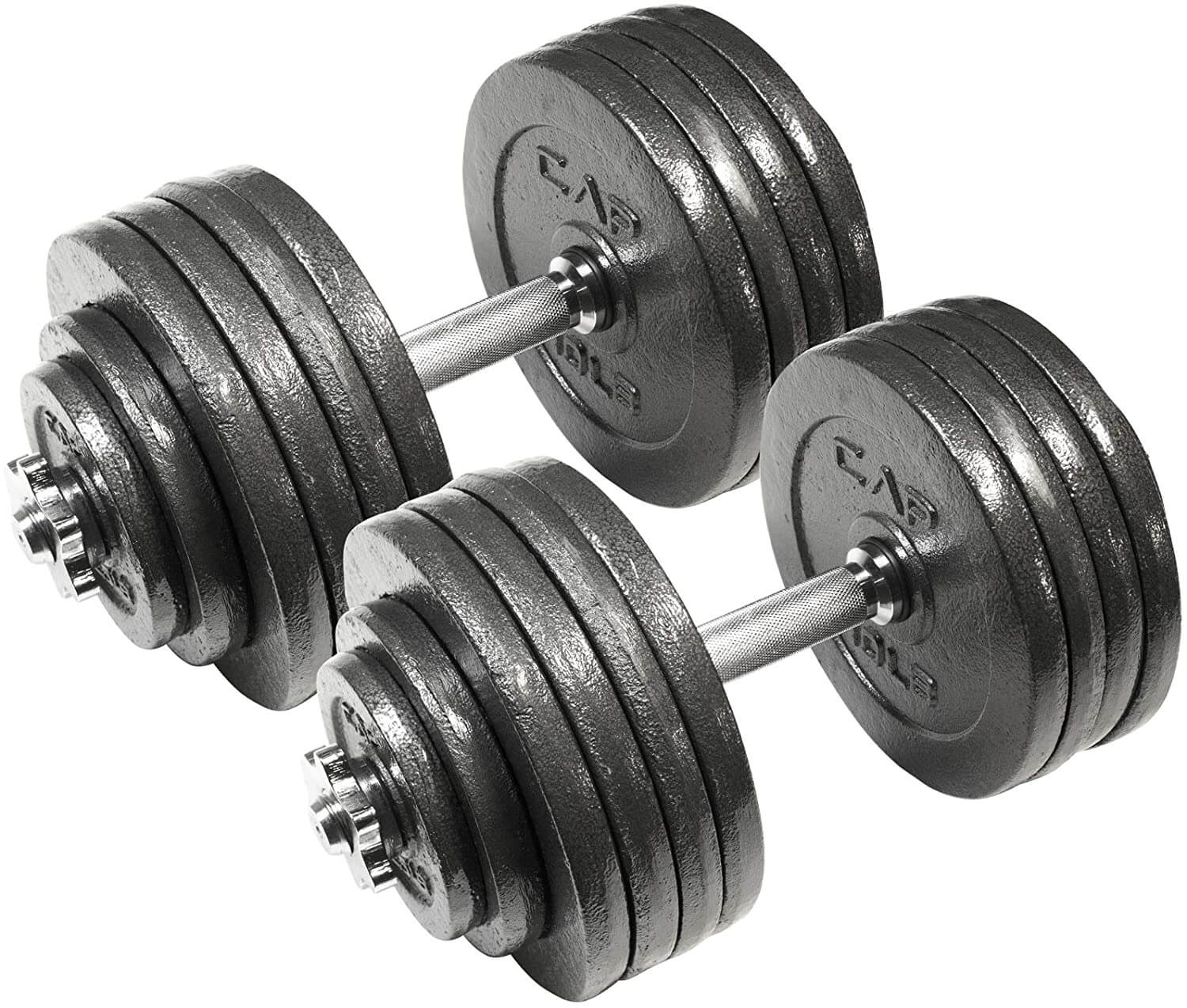 For those who want to take things to another level, then they can turn to the brand CAP to get that. Here we have a set that includes a total of 200 pounds.
What you get in the pack is two 17-inch dumbbell handles, four 2.5-pound and five-pound plates, a total of 16 10-pound plates, and lastly, four star-lock collars. Whether you're getting a full-body workout or targeting specific muscle groups, these dumbbells will indeed work for you.
The weight plates are made from cast iron and held together by a one-inch standard handlebar. The plates also do have a black epoxy finish that will prevent corrosion and dust, giving you great use for years to come.
As for the handle, it is made from cold-rolled steel along with a diamond knurling so that you have a secure and no-slip grip. Since it's a set you can put together, you only need to purchase this one instead of getting multiple ones.
---
Anon adjustable dumbbells
Last on our list of the best dumbbells you can get for building muscle comes from Anon. They are made from eco-friendly rubber coating on the weight plates. When you're working out, the weight plates are held together with spring-clip collars that provide a secure attachment.
The dumbbells also come with ergonomic handles, so you're assured a safe grip when working out. As for the plates you get, you a 22, 33, 44, and 66 pounds of weight plates.
What's interesting about Anon is you can get the dumbbells in the standard back with various color finishing. These weights are small as compared to the rest, but they are still ideal for men or women looking to build muscle.
---
Wrap up
Getting the right dumbbells is essential in building muscle, just as much as targeting the right muscle groups and keeping form is. When in doubt, there are a lot of professionals, both on and offline, that can get you started on the right footing.