Weight Gain Foods For Vegans
Any skinny guy who wishes to bulk up knows that weight gain should really be their top priority.
Regardless of how much you work out, without the right diet to complement your training routine, you will not be gaining weight or reaching your goals anytime soon.
Guides that focus on helping a skinny guy bulk up through an appropriate diet usually tend to focus quite a lot of meat products. There are a lot of meats that can give you a good dose of protein, creatine, and the amino acids your body needs to gain weight and bulk up with excess muscle mass.
The problem with these guides is the fact that they are often not appropriate for vegans.
As a vegan, you know that eating meats and any animal-derived product are out of the question.
This means no lean beef, no turkey breasts, and, of course, no cheese, cottage cheese, and eggs.
The good news is, there are still many weight gain foods for vegans that you can rely on. We take a look at some of the best foods to eat to help you gain weight.
We will also consider a few supplements that are ideal for vegans who are struggling to bulk up.
Keep reading…
What Are The Best Weight Gain Foods For Vegans?
There are a lot of vegan-friendly foods available on the market. While the variety of foods is impressive – even better than many people might think – not all of the vegan-friendly foods on the market are healthy or even appropriate for people who are looking to increase their lean muscle mass.
When it comes to finding the best weight gain foods for vegans, you need to carefully consider your options and then decide on meals that give you a good balance.
Protein is usually the main priority when it comes to bulking up with lean mass – but do not overlook the importance of carbohydrates and healthy fats.
The vegan-friendly foods you add to your diet should also include all of the most important nutrients that your body would require to remain healthy.
We will take a closer look at some of the best weight gain foods for vegans that you may consider adding to your diet below.
Each of these will give you a good load of the most important factors that are needed for weight gain – calories, carbohydrates, and proteins. We also focus on foods that can help you achieve an appropriate nutritional balance.
1. Quinoa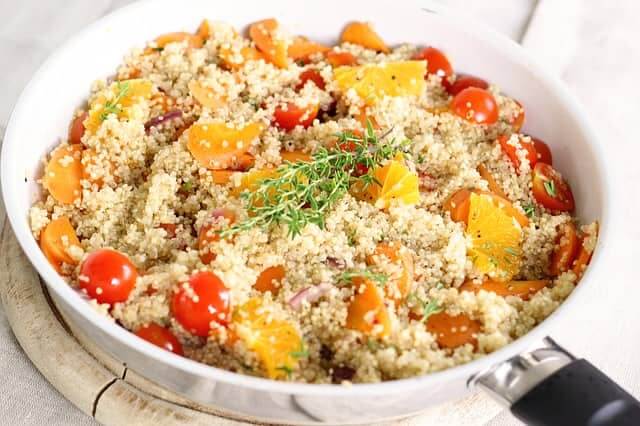 When looking at weight gain foods for vegans, one of the very first items that will usually come up is quinoa – this is especially an important food if you are looking to increase your daily intake of protein.
Quinoa is considered a type of pseudo-grain. The main macronutrient you get with the consumption of quinoa is protein. Just one cup of cooked quinoa can give you a dose of eight grams of protein.
Combined with just a few other foods, you can easily make up an appropriate protein dose to help support your efforts to increase your lean muscle mass.
In addition to providing a healthy dose of protein, quinoa also further contributes to your goal of gaining body weight by including the following macronutrients and compounds:
222 calories in a cup of cooked quinoa
5 grams of fiber in one cup of cooked quinoa
Quinoa is also rich in certain minerals that your muscle tissue needs to perform well – and to support the recovery process of muscle tissue after you worked out. These minerals include copper, folate, magnesium, phosphorus, and manganese.
We should also note that quinoa is a source of complete protein.
What this means is that a single serving of this food will give you a full dose of the nine essential amino acids that the body needs to function properly – and to create complete proteins. This is quite rare when looking at weight gain foods for vegans, with a particular focus on obtaining complete proteins.
2. Legumes
Legumes would be another excellent option when looking to add more protein-rich foods to your weight gain diet – particularly in the case where you are following a vegan lifestyle.
There is a large variety of legumes that you can consider to include in your diet. The major types of legumes to consider consuming would include chickpeas, beans, and lentils.
These are high in protein, which means they will help contribute to muscle growth. In addition to the protein content, you will find that these legumes are also rich in calories – helping you reach your goal calorie intake for the day.
A one-cup serving of black beans, one of the richest sources of protein when it comes to legumes, gives you about 15 grams protein. Additionally, there are 227 calories in a cup of black beans, as well as 15 grams of fiber content.
The majority of legumes that you can consider consuming also include various vitamins and minerals that your body needs. These nutrients not only contribute to better muscle function but also helps you avoid nutritional deficiencies while implementing your weight gain diet as a vegan.
Some of these minerals and vitamins include zinc, potassium, iron, magnesium, and folate.
3. Rice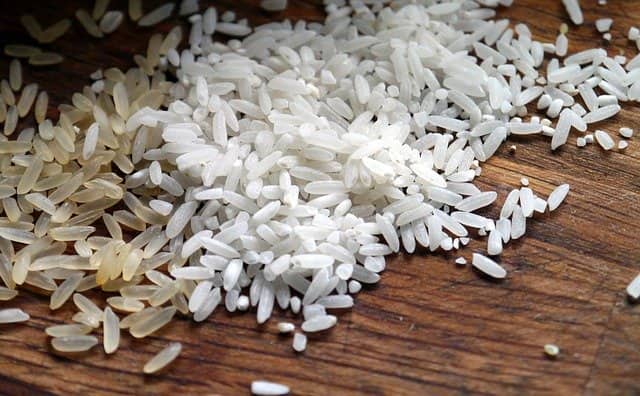 Gaining weight, particularly as a vegan, can be costly. You do not want to turn to vegan-friendly junk food – these will cause you to gain weight in the form of fat. When you increase your body weight through fat content, it means you are increasing your risk of diabetes, heart disease, and even obesity.
If you are on a budget while trying to gain weight, then rice should definitely become your best friend. Rice is high in carbohydrates and calories – and this is where this particular vegan-friendly food comes into play.
When you do consider rice as part of your weight gain diet, make sure to opt for brown rice. This is a healthier type of rice, compared to the standard white rice. You can also consider a variety such as wholegrain rice.
One cup of cooked brown rice will help to increase your daily calorie intake by about 216 calories. The same cup of cooked brown rice will also give you 3.5 grams of fiber content, as well as five grams of protein.
Brown rice also contains several nutrients. Some of the most noteworthy nutrients you get when you add rice to your diet include magnesium, niacin, manganese, phosphorus, and selenium.
4. Avocado
Avocado is often recommended for vegans who are trying to increase their intake of healthy fats. Sure, this food is rich in healthy fats, but you should take note that avocadoes are also high in calories and can definitely be an asset to your weight gain program.
A single avocado gives you about 30 grams of fat. The great thing about the avocado is that these are all healthy fats – which can help to boost your HDL cholesterol. This means the food is not only good for your weight gain and muscle growth strategy, but also potentially healthy for your heart, brain, and blood circulatory system.
Apart from the fat content, one avocado contains about 322 calories. This makes the food particularly useful if you are struggling to achieve an appropriate daily intake of calories. The food also contains fiber, which is essential for keeping your digestive tract healthy.
Avocadoes are also filled with many important micronutrients. Adding more avocado to your diet will give you access to potassium, pantothenic acid, folate, and vitamin C.
5. Nuts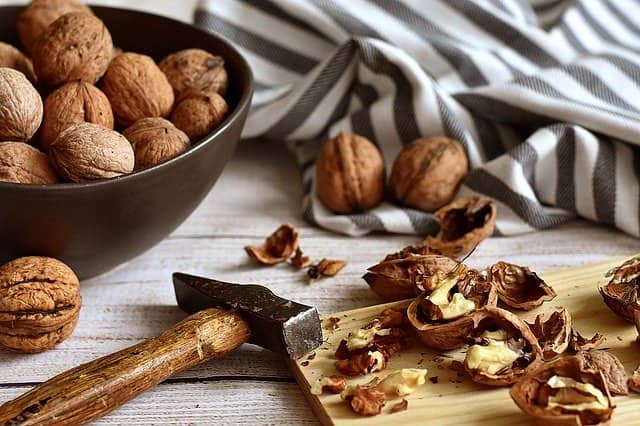 If you have been a vegan for a while, then nuts probably form a part of your diet already. These are exceptionally useful snacks and should make up an important part of a diet where you need to increase your intake of protein. Certain types of nuts are also high in healthy fatty acids.
There are different types of nuts that you can choose from, of course. A 28-gram serving of walnuts gives you about 185 calories. This makes for a great way to get a snack into your daily routine that will help you reach closer to the number of calories you need to consume to maintain a caloric surplus.
The same serving of walnuts also gives you more than four grams of protein – which will be helpful for your goal of achieving a higher concentration of lean muscle mass in your body.
If you are not a fan of eating nuts as a snack, then you could consider nut butter instead. Most nut butter on the market contains quite a lot of calories. When you do opt for nut butters, just make sure the product you buy does not contain additives and synthetic ingredients.
There are many nut butter out there that are filled with artificial sweeteners. Consider opting for "natural" nut butter – these will usually only include the processed nuts.
6. Tahini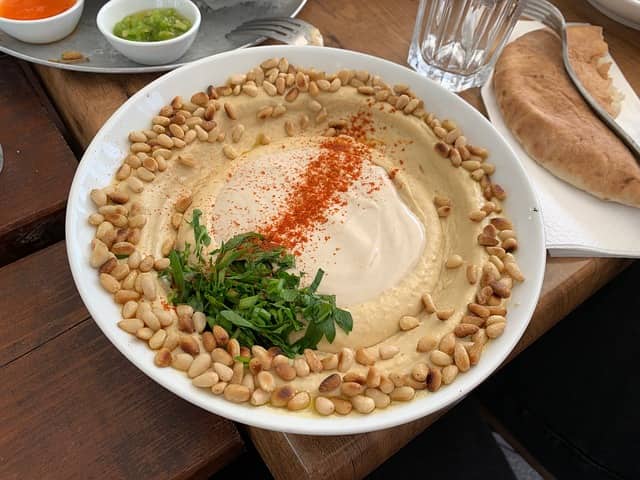 Tahini is not the most popular food on the market – but for a vegan, this can be an exceptionally valuable food to add to their diet. Tahini is considered a staple food in many areas of the world, including most Middle Eastern countries.
The major benefit of Tahini is the fact that the food is rich in calories. At the same time, the food also contributes to your daily intake of healthy fatty acids, fiber, and, of course, protein. Tahini is produced from sesame seeds that are toasted and then grounded.
A tablespoon of this food contains around 89 calories. While this may not sound like much, consider the fact that you get this dose of calories in just 15 grams of tahini. You also get about 2.5 grams protein in a tablespoon of tahini, along with eight grams of fat content and 1.5 grams fiber.
Vegan-Friendly Supplements To Help You Bulk Up
While there are several foods that can be added to a diet when you are looking to bulk up as a vegan, achieving an appropriate daily caloric intake can still pose a challenge for you. This is where vegan-friendly mass gainer supplements can become exceptionally useful.
First of all, note that not all of the mass gainer supplements available on the market today are appropriate for vegans.
There are several products that contain proteins that are derived from animal-based products. In fact, the majority of whey protein powder supplements tend to contain protein that is derived from milk or egg whites.
If you are not sure which mass gainer and protein powder supplements you can use on a vegan diet, then give the following recommendations a try:
Garden of Life Meal Replacement Lightly Sweet Powder –
Offers 20 grams of protein in each serving, along with six grams of fiber. The product also gives you 21 different minerals and vitamins.
This is a gluten-free supplement that only contains organic and raw plant extracts.
Buy this Supplement
---
Vivo Life Perform Raw Vegan Acai & Blueberry Protein Powder –
Another high-quality option that gives you 25 grams of protein in a single serving.
The supplement is rich in Branched-Chain Amino Acids and does not contain any soy or gluten. 
Buy this Supplement
---
Vega Sport Premium Protein –
A berry-flavored protein powder that is 100% vegan-friendly.
All ingredients are derived from plants. The supplement also comes in four alternative flavor options.
Each serving contains a 30-gram dose of protein.
Buy this Supplement
---
Conclusion
Meat and several animal-based foods are often considered the best sources of protein, carbohydrates, and calories.
These are the standard foods included in guides that focus on helping a skinny guy get bigger. When you follow a vegan diet, however, then you will not be able to take advantage of these guides.
We looked at the best weight gain foods for vegans in this post – because the fact that you are vegan should not limit the choices you have when it comes to setting up a muscle-building diet.