Are you looking for the best exercise to gain weight as a skinny person?? Exercise is a critical factor that people need to lose weight – it helps you burn through excess calories that have been stored as fat in the body.
While this is often the focal point of the exercise, skinny guys looking to get big should take note that exercise is only just not an appropriate activity for losing excess weight.
If you have been struggling to gain weight, then maybe you have been doing your exercises the wrong way.
With the best exercise to gain weight implemented into your muscle-building program, you will see a significant improvement in your muscle growth. You may also start to feel stronger and experience higher energy levels during the day.
The problem, however, is that you need to choose the right exercises and avoid those that may cause you to burn calories too quickly.
We look at the best exercise to gain weight in this post and also give you an idea of which physical activities you should avoid.
The goal of the tips we will be sharing with you in this post is to help you increase your lean muscle mass while avoiding the accumulation of fat in your body at the same time.
The Best Exercises To Gain Weight
We will start by considering the exercises that should ideally be included in your training program to help you bulk up and increase your muscle mass.
These exercises primarily focus on using the calories you consume as a way of increasing the lean muscle content in your body.
While you will still be burning through calories with these activities, the effect that these activities have on your muscles is sure to lead to a gain in weight.
The best exercise to gain weight will not only help you gain more lean muscle mass in your body.
The right combination of physical activities will also help to target different muscle groups, allowing for a significant improvement in your overall physique.
Strength is also sure to increase, which helps you push your body even further with every new training session you embark on.
Strength training is most often considered the best way to gain weight – but it is important to note that there are several types of resistance training protocols that can be just as effective.
Let's look at some of the best options you should consider to help increase weight and muscle mass – make sure to add a couple of these to your routine to ensure you target all muscle groups in your body.
Bench Presses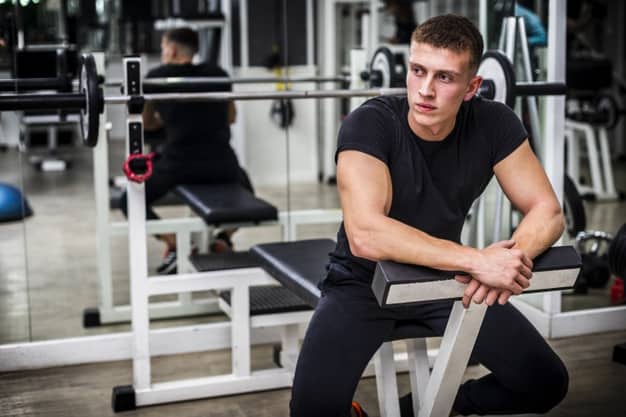 We'll start with a type of activity that most skinny guys who have tried to gain weight in the past are probably already familiar with – the bench press. This is one of the most popular exercises that you will find in the gym, and for a good reason.
The bench press is an excellent activity for targeting the upper body muscles – that would be the triceps, the shoulders, and, of course, the chest muscles.
The activity is relatively straight forward, but you do need some equipment if you are planning to do bench presses. You need a flat bench, as well as a weighted bar.
These are the only two pieces of equipment you need – if you do not have them at home, you can surely gain access to the two at the nearest gym.
When you decide to perform bench presses, never overdo it, and never overload the bar with weights.
This is an activity that could cause injury if you are not careful. Start slowly with low weight and then gradually work your way up as your body becomes more used to the activity, and your strength increases.
Pull-Ups
Pull-ups are also straightforward and simple, but you will need a bar that can be used for the activity.
These bars can be picked up at many local stores as you do not need a professional piece of equipment to perform pull-ups.
A pull up also primarily targets the upper body muscle groups. The primary focus here would be to bulk up your triceps and your shoulders, as well as your chest muscles.
If you do not want to hit the gym every time you would like to perform a few pull-ups, then consider installing a pull-up bar in your house.
Something like the Ikonfitness Pull Up Bar is an excellent option, made with a USA Original Patent, to deliver exceptional sturdiness.
This one can be picked up for under $50.
If you do find yourself on a tighter budget, then consider an option like the Prosource Fit Multi-Grip Chin-Up/Pull-Up Bar. This one costs less than $30 and still gives you a sturdy and high-quality bar.
These products offer different grips in one piece of equipment.
They are also relatively easy to install. They instantly convert a doorway in your house into a full pull up workout station – giving you the ability to perform pull-ups whenever you feel like it.
Make sure to incorporate pull-ups into your everyday life. While they might seem difficult at first, as your body and muscles gain strength, they will become easier.
Push-Ups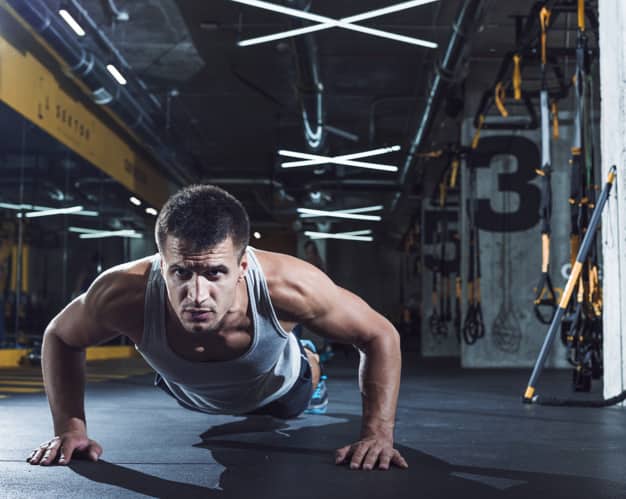 Push-ups are some of the most basic activities that people perform when they are trying to get fit – and in the case of gaining weight, this is yet another excellent activity to add to your daily training routine.
The great thing about a push up is the simplicity behind the activity. You do not need any type of equipment or items to do a push-up – you can also do these activities anywhere.
Simply open up some space in the lounge or even next to your bed. Regularly doing push-ups will help to strengthen your shoulders and your arms, and contribute to larger triceps.
The activity is also helpful for bulking up your chest muscles.
If you do find that the ground is too hard for you to do push-ups, you can make this particular activity more convenient by using an exercise or yoga mat. Exercise mats are generally cheap.
An excellent example is the BalanceForm GoYoga All-Purpose High-Density Non-Slip Exercise Yoga Mat.
This mat is available for just over $10 and offers a cushioning between you and the floor. You also get to choose between seven different color options to suit your own personal preferences.
Another good option for reducing the pressure from the floor is the BalanceForm Puzzle Exercise Mat, allowing you complete freedom on how large and what shape your exercise mat should have. This mat comes in three thickness options and different sizes.
There are also three different colors for you to choose from.
Squats
When trying to implement the best exercise to gain weight, you should not overlook the importance of targeting your legs, buttocks, and abdominal area. 
This is where squats come in – an excellent way to target these muscle groups, while also getting your heart pumping faster.
Your quadriceps will also become more toned, larger, and stronger with a frequent session of squats.
You can also repeat a rep of squats as many times as you like to reap maximum benefits from the activity.
To help give you more from a single exercise, consider adding some handheld weights to this activity. This helps you target your upper and lower body at the same time.
Exercises You Should Avoid
Now that we considered some of the most effective exercises you need to add to your daily routine to ensure you can gain weight, we should consider a few activities you need to avoid too.
Before we take a closer look at activities you wish to avoid, take note that it is not necessary to completely eliminate these exercises from your life.
They still hold certain benefits for your body – just try to create a balance where these activities form only a small part of the physical activities you will participate in on a daily basis.
Cardio and aerobic exercises are the activities that you want to limit in your training program.
The primary goal of these activities is to help you reach a specific caloric expenditure – this essentially means that participating in cardio exercises will cause you to burn off excess fat.
They will lead to a reduction in your body weight – and not an increase.
You can still make certain cardio exercises part of your routine – just know your limits.
These exercises are known to be beneficial when it comes to tone your muscles – which is something you might want to consider as your lean muscle mass increases.
An appropriate balance between your strength train and cardio exercise activities will ultimately lead to a body that is not only bulked up with a higher lean mass content but also muscles that appear more toned.
Making The Most Of Your Exercise Program
While the implementation of an appropriate training program and just the right exercises are important for weight gain, there are ways to push your results even further.
Your diet, for example, plays a significant role in your ability to gain weight – especially when trying to bulk up with muscle mass as a skinny guy.
Eating the right foods that give your body access to carbohydrates, protein, healthy fats, and the most crucial minerals and vitamins are important.
This helps your muscle tissue develop, gives you strength during physical training sessions, and ensures your muscles can effectively recover after you have completed an intense workout.
To maximize your benefits, however, you need to ensure you eat more calories than you burn – and this can be hard when you implement an intense training program into your daily life.
Some skinny guys find it hard to eat enough to support their weight gain strategy – and this is why you should consider adding a supplement or two to your daily diet.
This way, you can load up on more calories, while also giving your body some extra protein and carbs. Many supplements also come with useful nutrients, including vitamins and minerals.
You can choose to use a mass gainer. There are a few excellent options on the market.
For a high-calorie dose, consider a product like the Dymatize Super Mass Gainer Protein Powder.
At just over $25, this supplement gives you 1,310 calories and as much as 52 grams of protein in a single serving.
The supplement is also high in carbs and gives you a 10.7-gram those of essential Branched-Chain Amino Acids in every serving you take.
If you rather prefer a pure protein product, consider the Isopure Zero Carb Protein Powder. This is a protein isolate, with 90% protein content in each serving you consume.
The product does not contain any added ingredients and comes unflavoured, which means you can prepare this powder as part of a high-carb mass gainer smoothie.
If you prefer something that is 100% natural and one that gives you a good dose of carbohydrates at the same time, then the Naked Mass Natural Weight Gainer Protein Powder is also an excellent option to consider.
This supplement gives you 1,250 calories in each serving, along with 252 grams of carbohydrates and a 50-gram dose of protein.
Conclusion
Every person needs to exercise. It helps to keep muscles and bones strong and reduces the risk of heart disease, obesity, diabetes, and more.
While there is a common association between exercise and weight loss, it is also possible to develop a training program that assists with bulking up.
You just need to know which exercises to include if you want to go from skinny to big without burning through the excess calories you consume in a caloric surplus diet.
We shared some of the most effective ways to bulk up for anyone looking to find the best exercise for weight gain.
Additionally, we also provided details on the exercises you should avoid, or at least limit, if you want to avoid burning through too many calories.