As a skinny guy trying to get bigger, you have probably already noticed that this process does not happen overnight. It takes effort to get bigger – especially with a fast metabolism.
The time you spend at the gym surely helps you gain in terms of muscle mass, but without the right diet in place, you may end up burning through too many calories.
This means you will be staying at the same weight or, even worse, experiencing an even further reduction in your body weight.
Gaining weight relies on eating more calories for a skinny guy – but it is really not as simple as that. Where those calories come from count too. Load up on junk foods that are filled with saturated fats, and you will find your belly is growing bigger with fat.
We will consider what it really takes to gain weight the right way, and look at a meal plan example to give you an idea of what you can do to increase your lean muscle mass and bulk up.
How Do You Gain Weight As A Skinny Guy?
Skinny guys often think that they can go on eating whatever they want without gaining weight. They would often blame a fast metabolism on this.
The problem here is that most of these people are not eating as much as they think.
Start to do some calculations – if you find that you are not gaining weight, then your caloric intake is lower than your daily caloric expenditure. This means you are in a calorie deficit at the moment.
When this is turned around – and you enter a calorie surplus – this is when you will start gaining weight.
A calorie surplus means the number of calories you expert each day, primarily through being active or exercising, does not exceed the number of calories that you consume.
In fact, you need to eat somewhat more calories than the amount you burn through daily – this is the only true way of gaining more weight
Thus, when you develop a meal plan to gain weight for skinny guys, you will need to consider how active you are. If you are exceptionally active, then you will need to consider a more significant bump in your calorie intake.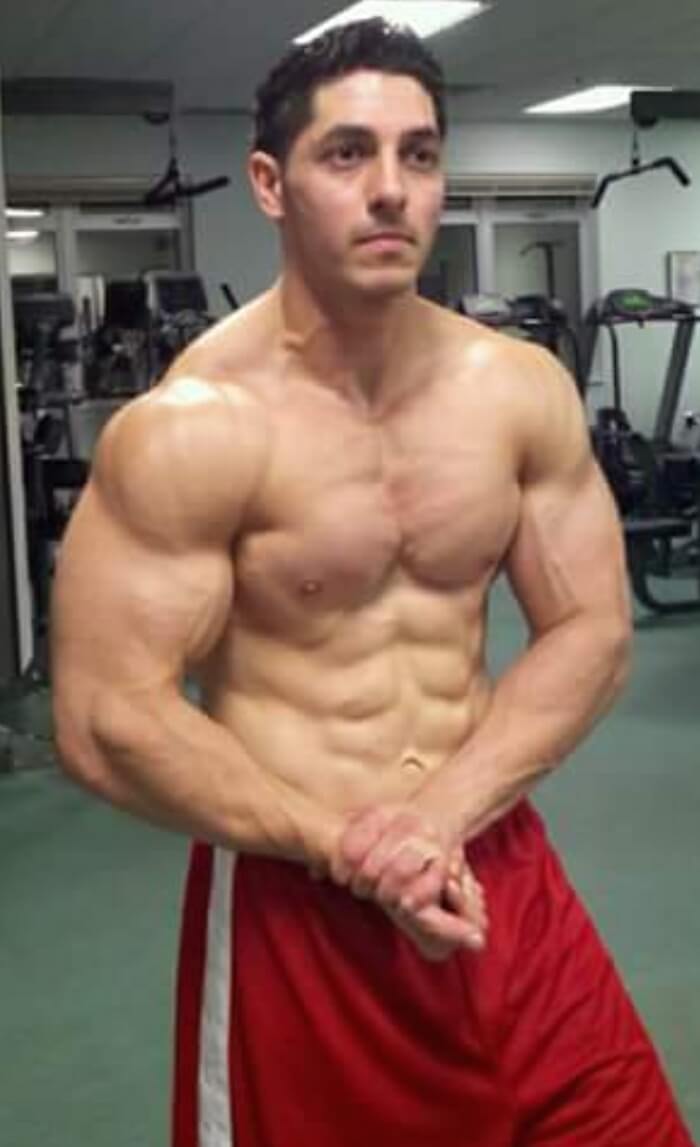 Alby, a father to 5 kids who struggled to pack on lean muscle followed a simple yet effective workout guide along with a solid meal plan that gave results that even surprised himself and his wife. He went from bones to beast in a very short time and you can too. Read his story to find out how…
Read Alby's Story
The Perfect Bulking Meal Plan For Skinny Guys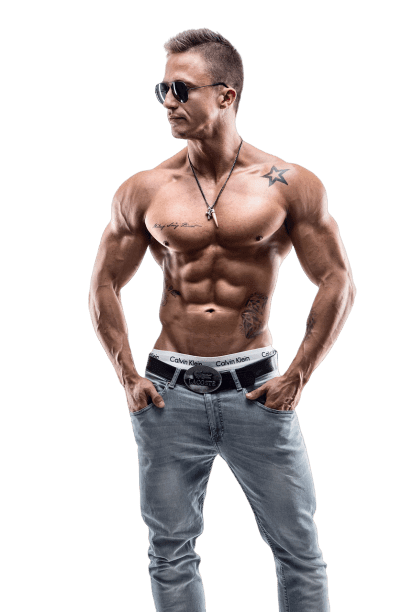 A bulking meal plan for skinny guys needs to be balanced. You first need to calculate how many calories you burn each day. Then you should consider how many calories you will need to eat if you are to gain in terms of weight.
You also need to take into account what you will be eating to get to your caloric goal – just getting to the calories you are aiming for without considering the specific foods you will consume may lead to inappropriate results.
A good goal to get you started would be around 3,000 calories. If you are able to burn between 2,000 and 2,500 calories each day through physical exercise, then you get up to 1,000 excess calories to help you gain weight.
The macronutrient profile o your bulking meal plan should also be configured at this point. The food you will eat to achieve that 3,000-calorie goal needs to be balanced – you need to give your body an appropriate dose of fats, protein, and, of course, carbohydrates.
These will all help to keep your body healthy, ensure you can maintain your energy, and contribute to faster muscle growth.
Macronutrient Profile
For the purpose of the meal plan that we are going to be discussing here, we will work with the following macronutrient profile:
About 100 grams of fat per day
About 225 grams of protein per day
About 300 grams of carbohydrates per day
While this is a good macronutrient profile to aim for when trying to bulk up as a skinny guy, we did mention previously that you need to consider a good balance. This means a variation.
One day, you might load yourself up with carbohydrates. The next day, you may want to consider limiting your intake o carbohydrates.
The specific variations should really be dependent on your workout routine, however. You should ensure the days where you increase your load of carbohydrates are the days when you will be pushing yourself to further limits in the gym.
For the purpose of this guide, we will consider you take two days a week as your rest days. This is important, as these resting days allow your muscles to regenerate and helps with the recovery process. Pushing yourself too far can cause problems; after all – you may find yourself at risk of muscle-related injuries.
When considering an appropriate diet for weight gain, it is important also to consider adding multiple meals each day. Similar to how a variation is needed throughout the week, you should ensure the same type of strategy is used to plan out each day.
On workout days, you should ideally ensure that you get a starchy meal following an intense workout. The macronutrients that you add to these meals will help with the recovery process of your muscles.
Here's a sample meal structure for your workout days:
Breakfast – try to eat a breakfast that contains some starchy carbohydrates
Between breakfast and lunch – try a snack that has very few carbs
Lunch – Make this a meal that focuses on a low carb content, but still adds to your daily calorie intake
Post-workout snack – this should be a meal or shake that contains adequate carbs
Between lunch and dinner – consume another meal that contains some starchy carbohydrates
Dinner – consider a meal that is higher in starchy carbohydrates than your lunch
Recipes And Meal Ideas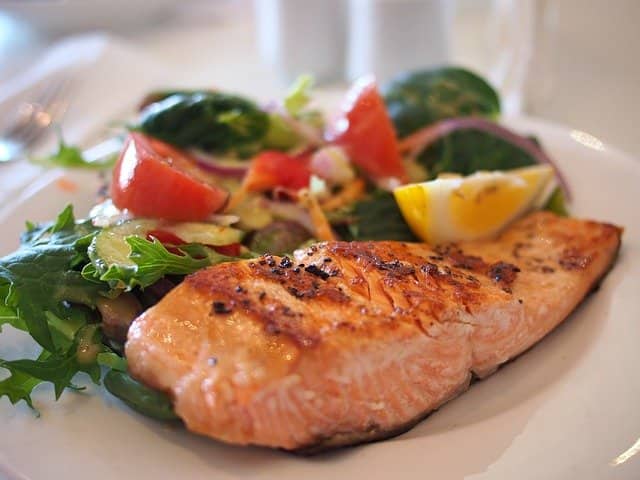 Now that we have considered how your meals should be structured, we should look at a few ideas for meals that would be ideal choices during the day.
We will share a couple of meal ideas and recipes that you can take advantage of below.
Scrambled eggs with cheese and scallions – use four egg whites, along with three eggs that are enriched with omega-3. Add two scallions, one small apple, and about two slices of Ezekiel bread.
Grill a six-ounce flank steak or salmon fillet with a diced tomato, half a cucumber, and one cup of chickpeas. Use a teaspoon of olive oil to grill your steak.
Prepare about six ounces of shrimp, along with two medium yams, and a cup of broccoli florets. You can add some Parmesan cheese to the meal. Use a tablespoon of butter to fry the shrimp.
Grill a six-ounce chicken breast with no skin or bone. In a separate pot, prepare about one-third cup off quinoa or the same amount of couscous. Create a salad with the cooked quinoa and chicken, as well as some walnuts and raisins.
Simple Salmon and Salad – This is pretty easy. Grab your frypan and add a small amount of oil. Then add a fillet of salmon and cook until the outside is nice and crispy. While that is cooking create a simple salad with lettuce, cucumber, tomato, onion and pour a small amount of olive oil over for dressing. A simple but highly nutritious meal.
Add Some Protein Smoothies To The Mix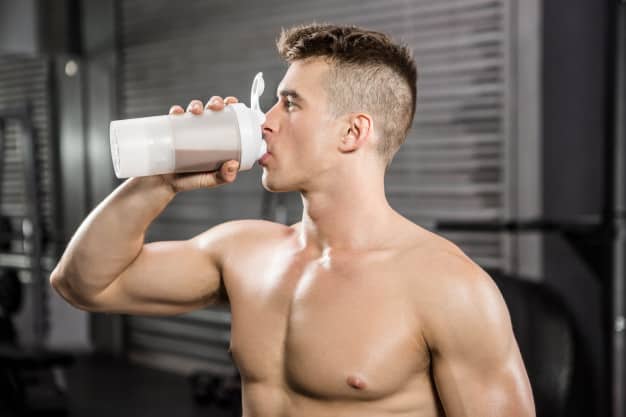 You do not only have to focus on eating solid meals throughout the entire day. Instead, consider taking advantage of a few smoothies that you make at home. This makes it easier to get a drink that will offer you a way to customize your macronutrient profile.
When you decide to make smoothies, consider adding some whey protein powder to the mix. This type of protein is great for increasing not only your daily protein intake but also to consume enough calories and carbohydrates.
There are quite a few different whey protein powder products on the market – but they are not all of equal quality. If you want to take advantage of protein powder in your smoothies, consider these products:
NAKED Whey 100% Grass-Fed Unflavored Whey Protein Powder – 25 grams of protein per serving √
---
Nutricost Whey Protein Concentrate – 25 grams of protein per serving √
---
Revly 100% Grass-Fed Whey Protein Isolate Powder – 25 grams of protein per serving √
---
BN Labs Grass Fed Whey Protein Powder – 24 grams of protein per serving √
---
Conclusion
Weight gain is often the goal of a skinny guy, whether you want to improve your health or increase your chances of picking up a girl. The process can be tough, but with the right diet and exercise plan, it is possible to bulk up.
The journey toward an increase in your body weight should, however, start with the right meal plan.
If you are not sure what foods to include in your meals or even what to prepare, consider the meal plan to gain weight for skinny guys we shared here.
Have question?
We want to help. Simply ask your questions below and we will try help as best we can.